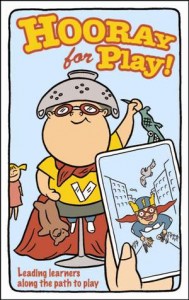 Hooray for Play! Leading Learners Along the Path to Play is literally fresh off the press and we couldn't be more excited. Created by Stacy Asay, our brilliant behavioral consultant, we're thrilled to offer this new tool for developing social and play skills.  Hooray for Play is a multi-use deck of 31 beautifully illustrated cards that offer children an opportunity for perspective taking, problem solving, cooperation, social emotional skill acquisition and language development.
The flashcards break down the components of the 31 individual play schema cards into three organized sections that provide a memorable framework for sociodramatic play. The Do! Section explains the various roles, Say!! outlines possible scripted statements by the involved actors and Play!!! offers suggestions for props and set-up. Have fun!
To save 15% this week only on Hooray for Play, simply enter the Promo Code BLOGHFP11 at checkout.
*Offer expires on November 15, 2011 at 11:59 pm EST. Not compatible with any other offer. Be sure there are no spaces after the Promo Code when you enter it at checkout.