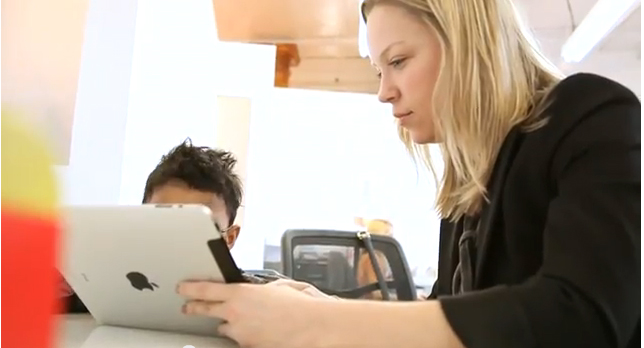 Do you believe in fate? Many years ago, after a particularly grueling day, Stacy thought, maybe it would be nice to have a 9-5 job. On a whim, she contacted Different Roads inquiring about job opportunities. When we saw her resume and credentials, we nearly jumped out of our seats with excitement. Of course, luckily for all of us, Stacy realized her calling was in the field working directly with children but she's been consulting with us ever since.
Stacy has worked with us on so many projects, each one intended to bring our customers the best materials we can and create a community for all of us to be a part of. She has provided invaluable input on product selection, contributed informative and practical blog posts and been an irreplaceable source of information on the realities of providing ABA services and being an Early Intervention Provider. We don't know what we would do without her!
Stacy worked on the development of our robust app, Tell Me About It! Teaching Language by Receptive Function, Feature and Category. She developed and created Hooray for Play! Leading Learners Along the Path to Play. These flashcards break down the components of 31 individual play schema cards into the three organized sections that provide a memorable framework for socio-dramatic play. The Do! Section explains the various roles, Say!! outlines possible scripted statements by the involved actors and Play!!! offers suggestions for props and set-up.
We asked Stacy a few questions about her work and what keeps her inspired:
Tell us about a particularly influential child you've worked with and how it impacted your approach to EI?
Wow, this is a really hard question!   Without a doubt each student I have had the privilege of working with has provided insight into my work with children and families in invaluable ways.  I can't pinpoint one student out of all of my sixteen years that has single handedly impacted my approach in any quantifiable way because the process has been more cumulative than that.  However, I have learned to accept that I will constantly be surprised by my students and am reminded everyday to just set the bar high no matter what the initial presentation of the student is.  It is only natural that parents and colleagues take the current level of the child's functioning and try to extrapolate that because facing the unknown is always hard but I try and remind myself and others that programmatic decisions can't be made based on what we think might happen or how we assume learning and development may unfold.  Instead we should enlist our creativity and collaborative efforts to teach what is socially relevant and appropriately challenging for that particular student in that moment.
If you had one piece of advice to teachers or therapists just entering the field, what would it be?
I would have to say "Be flexible!"  Our students have a diagnosis characterized by rigidity in thought and behavior and often ABA therapists meet a child's rigidity with their own rigidity about the right way to teach something just because it worked with the child before. Or perhaps you will teach "Sam" to tact colors using flashcards because that is how it is "supposed to be taught" without any consideration to individualizing the teaching conditions, addressing individual specific motivational issues or without concern for the lack of generalization or increased prompt dependency.  ABA is a science that employs a systematic analysis of external conditions or factors that either increase or decrease the likelihood of a behavior.  Within that we have infinite possibilities to harness the science in a way that is best for an individual child and a myriad of opportunities to model flexibility for our student through our own behavior.
BIO
Stacy L. Asay, LMSW is a licensed social worker, providing home-based Early Intervention services to children and their families in the New York City area.
After graduating from Hunter College with a bachelor's degree in Psychology, she went on to complete a Master's of Science in Social Work from Columbia University in 2006 and completed the course requirements toward board certification in May of 2013.
With nearly sixteen years of experience, her work with special needs children integrates a strengths-based, holistic approach to child and family augmented with the tools of Applied Behavior Analysis, a methodology that allows for reliable measurement, objective evaluation of behaviors, and the systematic teaching of language and learning skills.  This results in an individualized curriculum that equips children with the tools they need for learning and living while honoring their unique spirit.
Currently, Stacy's professional interests lie in the realm of developing new methods and tools for the effective teaching of play skills.