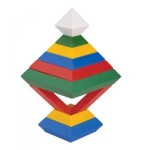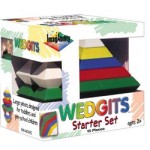 We've been hearing rave reviews of the WEDGiTS for years but it wasn't until we had them in hand that we realized how unbelievable these building sets are. The WEDGiTS can be nested, stacked, linked, and wedged together to create hundreds of different designs from just 15 pieces. Building with these develops dexterity, fine motor skills, sequencing and patterning abilities, as well as visual discrimination skills. You can build as far as your imagination takes you with the Starter Set or you can supplement it with the WEDGiTS Starter Set Design Cards to maximize the challenge. The cards are for users of all levels from 2-piece constructions to ones that utilize all the pieces in the set.
This week only, save 15% on the WEDGiTS Starter Set: 15 Pieces as well as the WEDGiTS Starter Set Design Cards by entering the promo code BLOGWEDG2 at checkout.
*Offer expires on November 22, 2011 at 11:59 pm EST. Not compatible with any other offer. Be sure there are no spaces after the Promo Code when you enter it at checkout.