By: Katie McKenna, MS, OTR/L (originally posted on The Autism Helper)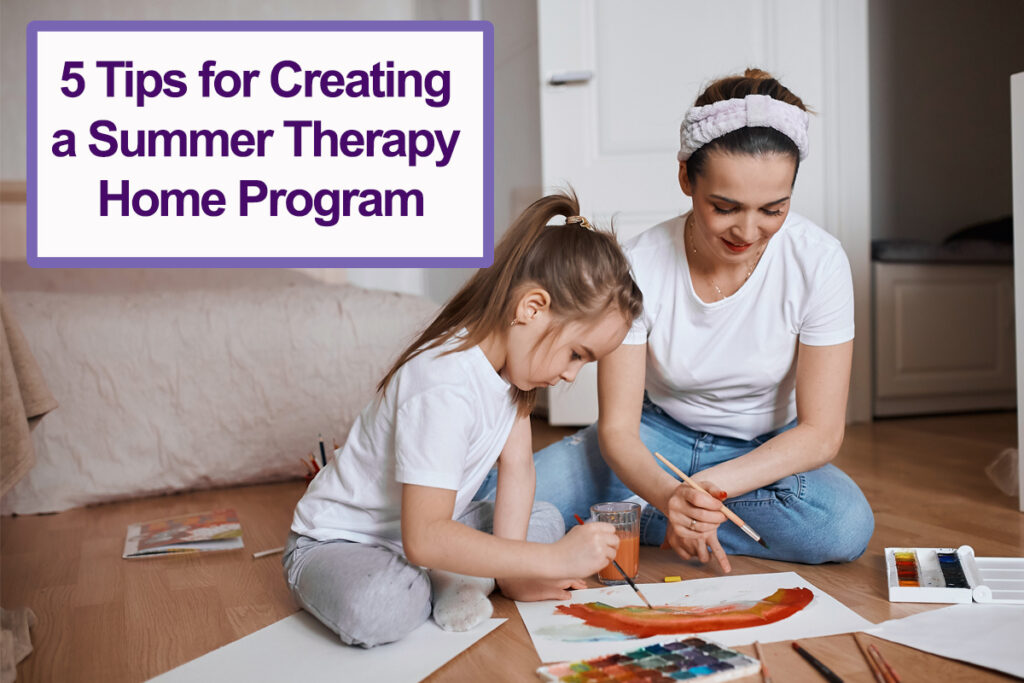 It is so hard to believe that summer is upon us! Summer can bring about many different experiences and emotions. On one hand, it can be exciting to take a break from the intense schedule of the school year. However, on the other hand, summer often brings less structure and routine, which can be hard for our learners. As I wrap up the school year, I like to provide my families with some therapeutic activity ideas that not only maintain or build skills throughout the summer but also are fun and easy to implement. Here are some of my tips for putting together a summer therapy home program!
1. Embrace the Outdoors
Summer is the best time to truly embrace outdoor activities. Kids NEED to be active. Check out my blog post here about why outdoor play is so vital. Additionally, many summer activities that families naturally do may include amazing outdoor motor and sensory experiences, such as swimming, going to the beach, hiking and bike riding. Even just playing at the playground can be so beneficial – check out this post for more! When recommending summer activities for families, I always include outdoor play ideas as they tend to be easy to setup and free or low cost, but full of amazing opportunities for students.
2. Encourage Hands On Activities
Early in my career, I used to send home a lot of paper packets that contained prewriting and drawing practice worksheets. I have since stopped. Why? So much learning comes from experiences that do not involve pencil and paper and summer is the perfect time to explore that! Kids NEED to experience more hands-on activities and play in order to have strong muscles for pencil and paper tasks. Instead of completing writing worksheets, try suggesting students use sidewalk chalk or draw shapes and letters in the sand. You can also recommend families try some of these easy gross and fine motor activities using household items!
3. Focus on Life Skills
Summer is the perfect time to work on various household tasks and life skills, such as cooking, cleaning, and even community outings. For sensory sensitive kids, some of these tasks can be very overwhelming. One of the pros of a slower summer schedule is there may be more time and flexibility to gradually build confidence and skills to be able to engage in some of these tasks.
4. Make it Routine
Routines and themes help me stay on track during the school year, and I like to suggest the same to my families for the summer. Depending on your student, you may recommend a few activities for families to focus on consistently in daily or weekly routines. Some years, I have recommended daily 'themes' and corresponding activity ideas such as Movement Monday, Fine Motor Tuesday, Sensory Wednesday, Cooking Thursday, Community Outing Friday. Families can choose one activity per day based on the daily theme. Or, you could collaborate with a family to choose 1 or 2 daily routines to target and recommend a therapeutic spin on it. For example, when reading books at bedtime, have the student lay on his tummy. During the morning routine, try to encourage decreased verbal prompts. This way, activities don't feel like 'extra' work because they are already embedded into activities that happen in the family on a daily basis!
5. Keep it Simple
This is probably the most important tip of all. Let's face it. It has been a long school year! While some families may be looking for very detailed activity plans, others may be looking for a few practical ideas. In general, I like to recommend simple, actionable ideas that can be easily implemented and don't require a lot of preparation and planning. Like everything, touch base with your families and see where they may be looking for support and you can tweak your plan from there. I recommend starting simple and adjusting as needed to meet individual needs.
About the Author:
Katie McKenna, MS, OTR/L is an occupational therapist working with students in the school setting. Katie has worked with students of all ages, from early childhood up to high school transition. Before she was an OT, Katie worked as an in-home respite worker as well as an inclusion aide. Katie earned an undergraduate degree in Communication Sciences and Disorders from Saint Louis University, and a Masters degree in Occupational Therapy from the University of Illinois at Chicago.