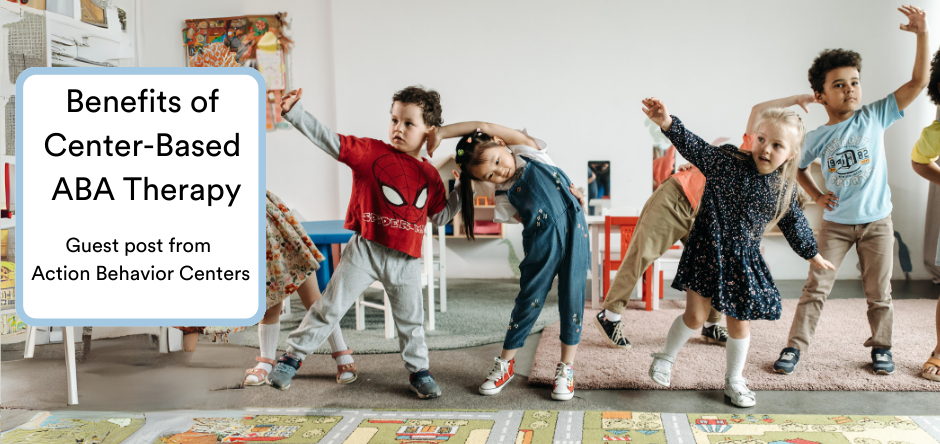 Reposted with permission from Action Behavior Centers
Applied Behavior Analysis (ABA) therapy is an evidence-based approach to treating children with Autism Spectrum Disorder (ASD). When ABA therapy is implemented in a center-based environment, it takes place in a clinical or therapy center to provide structure. This allows for the environment to be controlled. It involves a consistent approach to therapy, provided by a team of trained professionals like Board Certified Behavior Analysts (BCBA) and Registered Behavior Technicians (RBT).
The goal of center-based ABA therapy is to teach children on the autism spectrum new skills and behaviors while reducing unwanted behaviors. This is accomplished through a process of breaking down complex skills into smaller, more manageable steps and using positive reinforcement to motivate and encourage progress. At Action Behavior Centers, center-based ABA therapy sessions run from Monday to Friday at 8AM to 5PM. During each therapy session, the child may engage in a variety of activities designed by our therapist to help them develop new skills and behaviors. This form of therapy includes a variety of activities, such as play-based activities, structured teaching activities, and social skills training. For example, they may work on communication skills, social skills, and daily living skills. While working on a one-to-one therapist to child ratio, our therapist will evaluate each autistic child to implement a specific treatment plan. These plans will be designed to address the individual's unique needs and goals.
Center-based ABA therapy offers several advantages over the at-home alternative. Therapy centers offer an environment that is designed to be structured and predictable to allow ABA therapists the ability to conduct in a consistent and supportive manner. However, the benefits of center-based ABA therapy go beyond a controlled environment. Benefits of center-based Applied Behavior Analysis (ABA) therapy for children with autism include:
Peer Play, Social Imitation, and Social Interaction: One of the most significant benefits to in-center ABA therapy is the opportunity for children to connect with others their age. At Action Behavior Centers, our compassionate therapists supervise and guide child-to-child engagement. This gives ABA therapists the opportunity to teach children social skills such as how to greet others, initiate conversations, and join in on activities. This then translates into the development of other important skills like sharing and turn-taking. These skills can help children feel more comfortable and confident when interacting with peers and most importantly, it allows for peers to build friendships.
Increased Supervision: Being in a center-based ABA therapy program allows for your child's therapist to connect to a larger body of professionals, ensuring your child is getting the best possible care and attention. Not only will your child be surrounded by a team of experts, but they'll have access to more resources as well. Having a consistent team of clinical experts nearby creates a safe space for your child to explore and interact with their environment. At Action Behavior Centers, we employ trained professionals who have experience in working with children with autism. These professionals can provide individualized treatment plans and tailor therapy to the specific needs of the child. We make sure that our Board Certified Behavior Analysts (BCBAs), Registered Behavior Technicians (RBTs), and other therapists have had specialized training and experience in working with children with autism so that they can provide the most up-to-date form of ABA therapy possible.
School Readiness: Children who attend ABA therapy in-center will be practicing school-readiness skills such as participating in group activities, imitation, matching, and categorizing. Children will begin to familiarize themselves with the drop-off and pick-up process, alleviating some of the transitional stress associated with entering the school environment. ABA therapists help autistic children develop communication skills such as expressing themselves effectively, asking for help, and following directions as these skills are essential for effective communication with teachers and classmates.
State of the Art Facilities: Each of our ABA therapy centers is created with your child's specific needs in mind. From the big-picture ideas to the minute details, our New Center's Team focuses on creating the perfect place for children to learn & grow – while making our therapists feel relaxed, happy, and engaged. The village build-outs are perfect for pretend play – creating a unique, imaginative experience for our children to engage with. Our centers have a variety of therapy spaces to accommodate different activities and interventions, such as individual therapy rooms, group therapy spaces, and play areas. With safety in mind, our autism clinics are accessible for all clients, including those with physical disabilities or mobility impairments.
Structured Learning Environment: As previously stated, center-based settings provide a structured and controlled environment for ABA therapy to be implemented. This allows therapists to create a consistent and predictable routine for the child, which can aid in the child's learning and behavioral management. Center-based ABA therapy provides a structured and consistent environment that is designed to support the learning and development of children with autism. This can be especially important for children who struggle with routine and structure in other areas of their lives.
Specialized Equipment: Centers often have specialized equipment and resources that can be used to aid in the therapy process. For example, therapy rooms may be equipped with toys and other materials that are specifically designed to help with skill development. For example, our ABC centers have access to specialized resources and materials, such as sensory equipment, communication devices, and other technology that is used to support learning and development. Our centers even have access to a wide range of resources that include educational resources. This can help to support the learning and development of children with autism.
Overall, center-based ABA therapy can provide the structure needed for a child with autism to learn and grow. It is important to note that while center-based ABA therapy can be beneficial for many children with autism, it may not be the best fit for every child. Center-based ABA therapy can provide valuable resources and support for parents and other caregivers that In-home ABA therapy can lack in. Each child has unique needs, strengths, and challenges, and families should work with their healthcare providers to determine the best approach for their child's individual needs.
About Action Behavior Centers
Action Behavior Centers (ABC) is an organization committed to the treatment of children using empirically validated methods and strategies to assist each child in reaching his or her greatest potential and improving their quality of life.
Learn more at their website: https://www.actionbehavior.com/