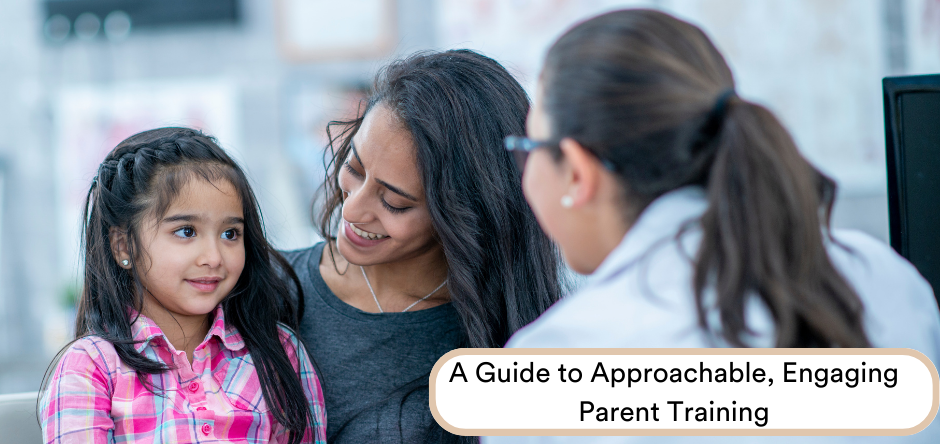 By: Morgan van Diepen, M.Ed., BCBA, Author of ABA Visualized
Many providers feel intimidated by or uncomfortable with the parent training component of ABA services. When I first started in this field, I personally felt extremely out of place giving parents advice on supporting their children, not yet being a parent myself. Over time, I have realized that parent training is not about teaching how to be a better parent but how to incorporate ABA strategies into their daily lives to help them reach their family's goals. Yet, even with our field's understanding of how essential parent involvement is in creating positive outcomes and long-lasting change, I often hear providers feel under-prepared to lead effective and engaging parent training. That's why at ABA Visualized, our books aim to give you the tools you need to lead approachable, engaging parent trainings!
Initial Consult
First impressions are everything! For many families, even having access to a BCBA is a luxury. Some have to navigate through waitlists, limited providers, and insurance barriers, so their first meeting with you is often a sign of hope! To help make that first meeting meaningful, here are our top questions to ask to learn about the family's values and priorities:
What do you hope to achieve by receiving behavioral supports?
Describe what a typical day looks like for you and your child.
What is the hardest part of your day?
What strategies are you currently using that are working/helping?
What specific activities would you like more support with?
What activities would you like your child to be more independent in? When you imagine them being independent in this, what does it look like?
Choosing Parent Training Goals
Did you know that the average time a Behavior Intervention Plan (BIP) is implemented correctly is only 7-10 days?! When we ask parents and caregivers to utilize behavior strategies daily, we should be informed of common barriers to prevent them proactively. Research shows that behavior jargon, lack of collaboration with other service providers, limited time, and a lack of agreement between the recommendations and the family's goals and values are the most significant barriers to effective parent training. How can we improve? By choosing parent training goals that focus on their priority concerns and can easily be embedded into their daily lives! When recommending goals, return to your initial consult notes to ensure that the skills you chose to teach directly align with their reported priorities. Here are some of our favorite parent training goals, as they have the most versatility and impact:
Parent will engage in 10 minutes of child-led play per day (ABA jargon: "Pairing")
Parent will recognize and reward every occurrence of (replacement behavior) (ABA jargon: "DRA")
Prior to (common trigger), parent will set their child up for success by (proactive strategy)
Parent will create opportunities to model functional communication of (specific skill) at least x times per day (SLP jargon: "Aided-language input")
Leading a Parent Training Session
Now that you have chosen meaningful goals to make an impact, it's time to teach the skills! Follow these steps to leading an approachable, engaging parent training session:
Start with celebrating success! Ask the family to share a recent situation in which their child had a behavioral success & ask them to share something they did recently to support their child's growth that they feel proud of.
Ask about current challenges/concerns. Yes, ask this every session! Priorities change!
Choose a parent training skill that relates to their current needs. Be flexible! You may need to change your plan on what you intended to go over in that session.
Explain the rationale behind the strategy in the context of how it will help with their current concerns.
Teach the skill using various methods until you learn which teaching style works best for that family.

Visuals: Many people learn best from visuals! By utilizing step-by-step visuals of how to do the skill, you eliminate language barriers and provide them with a resource they can refer back to between your sessions. In our ABA Visualized Guidebook, we have visualized all of the essential evidence-based ABA strategies!
Modeling: Demonstrate how to do the skill in a situation/context that is related to their current concern (e.g., instead of just modeling a standard example of how to use Providing Choices, show how they can offer choices during bedtime routine if that is the trickiest part of their day).
Video modeling: Cultural differences impact families' comfort level in asking clarifying questions. Try recording a video of you demonstrating the skill so they can review and practice it outside of session.
Whichever teaching method you choose, be sure to use approachable, jargon-free language. For example, in our ABA Visualized Guidebook, we've renamed Behavior Momentum as "Easy, Easy, Hard" and 3 Step Prompting as "Tell, Show, Help," making these strategies easier for families to remember, ultimately leading to more success for your clients! Check out our Guidebook for more tips on leading engaging, approachable parent trainings!
About the Author
Our mission at ABA Visualized is to make behavioral expertise approachable, accessible, and relatable. This has been our mission since our first publication in 2018 and continues to guide decisions in everything we do.
As a BCBA working abroad and then with the vibrant international community in Los Angeles, Morgan quickly developed a passion for supporting under-serviced families. She realized the recurring barriers affecting these communities and limiting their access to effective behavioral expertise: long waitlists to learn from expert service providers and an abundance of technical jargon-filled texts. Morgan began to refine her approach to better disseminate behavior strategies to those who truly need it: families and educators.
As an infographic designer, Morgan's husband, Boudewijn (Bou), naturally understands how visual storytelling can make the unclear, clear and the unknown, known. In a true collaboration between Morgan and Bou's skillset, their flagship product, the ABA Visualized Guidebook, was created utilizing step-by-step visuals and approachable language to accomplish that sought-after accessible behavior expertise.
Since this publication, ABA Visualized as a company has grown to offer a collection of books and trainings available worldwide. We aim to continue empowering others through approachable education on strategies that can make truly meaningful impacts on individuals' lives.