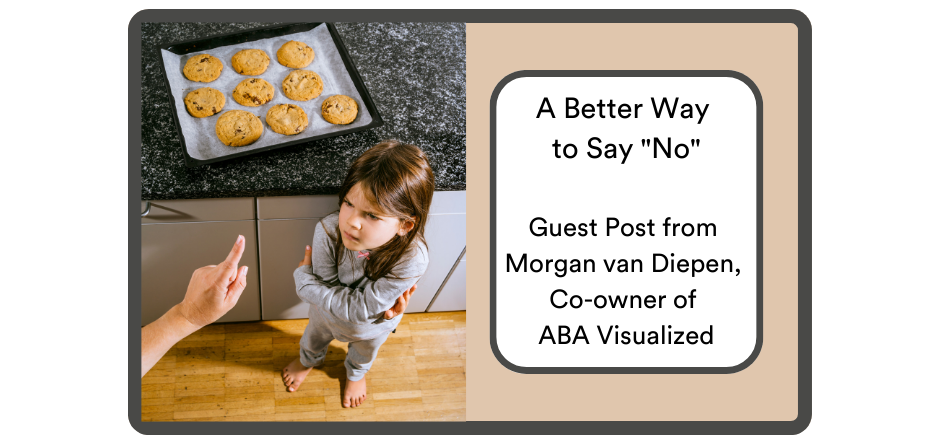 By Morgan van Diepen, M.Ed., BCBA, Co-owner of ABA Visualized
Hearing "no" or "wait" can be challenging for kids of all ages! In fact, as a BCBA, this is one of the most common requests for support that I hear from families. Luckily, researchers have tested out three ways to say "no" when something is unavailable, and the results show how slightly changing our response can actually prevent challenging behaviors! Let's look at the scenario of a child asking to play a computer game, but the parent is currently using it for work. Which of the three methods do you think was the most effective?
"No" + Explanation. In this common approach, the parent says it's not available and gives the honest reasoning: "Not right now. I'm working on the computer."
"No" + Explanation + Alternative. Now, we've added an extra suggestion of something that is available: "Not right now. I'm working on the computer, but you can play basketball outside with your brother."
"Yes" + Contingency. Here, even though our answer is "no," we're actually saying "yes!" This can be described as a "yes, when…" statement, where you are describing when the requested item or activity will be available: "Yes, you can use the computer when I'm finished with this meeting at 2:00." It can also be used to set expectations of what they need to accomplish before the request is available: "Yes, you can use the computer when you finish your homework."
So, which do you think resulted in the fewest challenging behaviors?
In this research study, the 2nd and 3rd approaches were equally successful at almost completely preventing vocal protests, aggression, and threats! By just changing the way we say "no," we can help our learners accept this answer more easily. Little changes that create big results! Strategies like these are perfect for parent training sessions during ABA. Here's a template parent training goal you could use with families who would like more support in this area:
When (client name) requests for something that is unavailable (provide examples specific to the client), parents will either respond with "No" + Explanation + Alternative (provide example specific to the client) or with "Yes" + Contingency (provide example specific to the client) in attempts to prevent challenging behaviors relating to tolerating "no," in at least 80% of opportunities across 2 consecutive weeks.
Looking for a more engaging way to lead parent training sessions and teach effective strategies like this one? Check out our 2nd edition ABA Visualized Guidebook, where we've visualized 27 evidence-based strategies (including this one!) as step-by-step illustrations, making behavior strategies easy!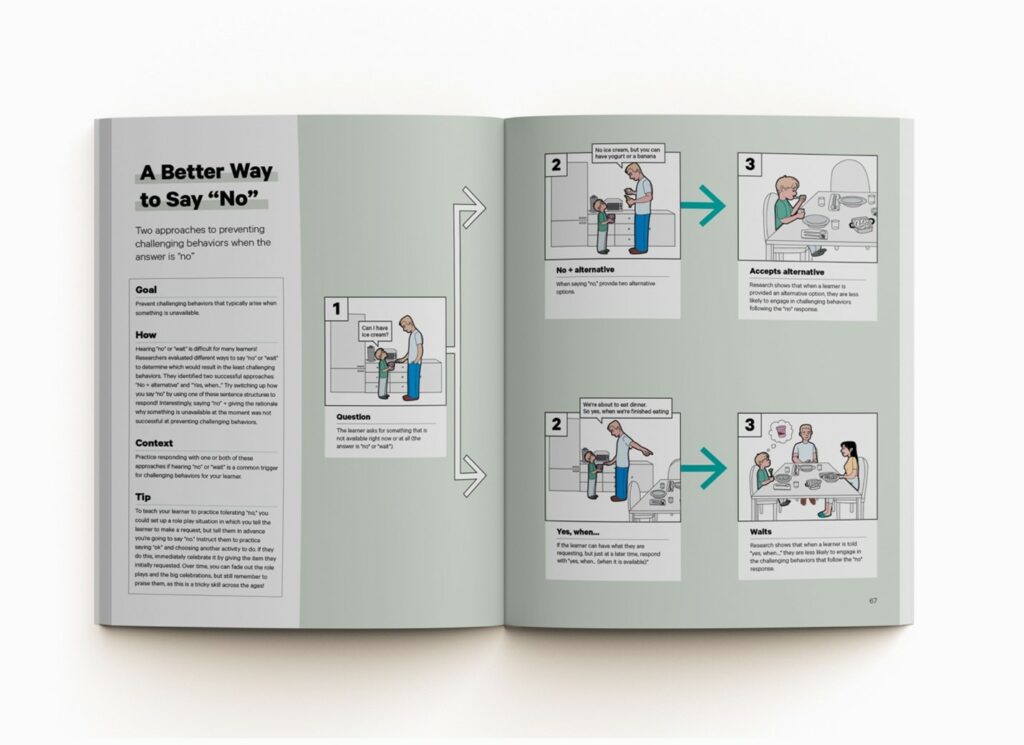 Article reference: Mace, F. C., Pratt, J. L., Prager, K. L., & Pritchard, D. (2011). An evaluation of three methods of saying "no" to avoid an escalating response class hierarchy. Journal of applied behavior analysis, 44(1), 83–94.