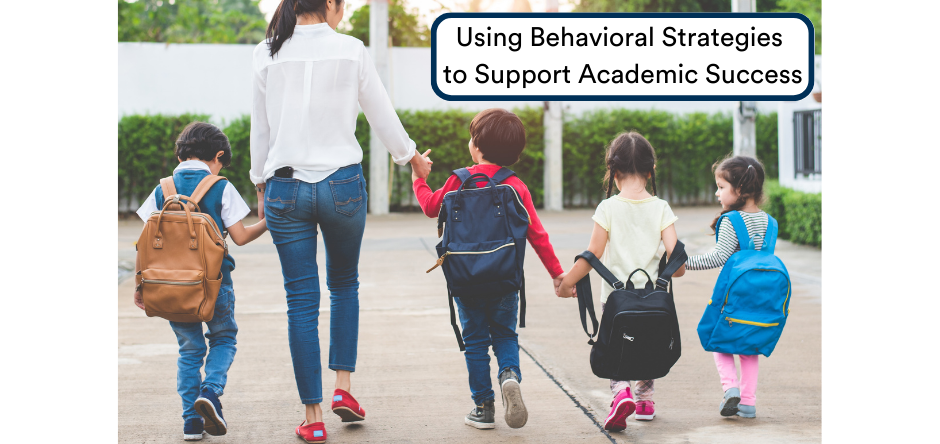 By Dana Reinecke, Ph.D., BCBA-D
Back to school is an exciting time for students and teachers, but those with learning differences might find it stressful to start a new school year with new faces, rules, and expectations. Fortunately, there are behavioral support strategies that can help to smooth the way for a fun, productive year of learning. Following are some research-based methods to consider.
One of the easiest ways to help students to succeed in school is to offer choices! Dunlap at el. (1994) found that students were more engaged in tasks and less disruptive when offered choices of activities. Giving students choices of activities that all achieve the same learning objective is a great way to facilitate engagement and ownership of task outcomes. Students who can pick how they learn something may be more enthusiastic about learning overall.
Another great way to get compliance with task demands is to use the strategy of momentum. This involves asking the student to do tasks that he is likely to comply with, before asking him to do things that are harder. For example, a teacher might present a coloring activity to a student who likes to color, and then praise him for completing that activity. The next activity could then be something a little harder and less preferred, like spelling, but now the student has a history of reinforcement for compliance and so is more likely to continue to comply. Lipshultz and Wilder (2017) offer a review of the recent research in this area.
Sometimes stretching learning out over multiple sessions and across days can be helpful. Some research shows that distributed learning, where students are given instruction on the same skill for several days, is more efficient and effective than massed learning, where students are given lengthy instruction on the same skill all at once (e.g., Haq et al., 2015). For students who struggle in a particular area, consider shorter, more frequent opportunities to practice and learn.
Given thoughtful supports and reasonable, meaningful accommodations, students with learning challenges can be successful and happy in school. Adding some strategies like the ones described here can make for a fun and productive year!
References
Dunlap, G., DePerczel, M., Clarke, S., Wilson, D., Wright,S., White, R., & Gomez, A. (1994). Choice making to promote adaptive behavior for students with emotional and behavioral challenges. Journal of Applied Behavior Analysis, 27, 505–518.
Haq, S. S., Kodak, T., Kurtz-Nelson, E., Porritt, M., Rush, K., & Cariveau, T. (2015). Comparing the effects of massed and distributed practice on skill acquisition for children with autism. Journal of Applied Behavior Analysis, 48, 454–459.
Lipschultz, J. & Wilder, D. A. (2017). Recent research on the high-probability instructional sequence: A brief review. Journal of Applied Behavior Analysis, 50, 424–428.
---
About The Author
Dana Reinecke, Ph.D., BCBA-D is a New York State Licensed Psychologist and Licensed Behavior Analyst (LBA). Dana is an Assistant Program Director in the Applied Behavior Analysis department at Capella University, overseeing the PhD in Behavior Analysis program and mentoring doctoral learners. She is also co-owner of SupervisorABA, an online platform for BACB supervision curriculum and documentation. Dana has provided training and consultation to school districts, private schools, agencies, and families for individuals with disabilities. She has published her research in peer-reviewed journals, written chapters in published books, and co-edited books on ABA and autism. Current areas of research include use of technology to support students with and without disabilities, self-management training of college students with disabilities, and online teaching strategies for effective college and graduate education. Dana is a Past President of the New York State Association for Behavior Analysis (NYSABA).
Originally published by Different Roads to Learning on September 21, 2017.