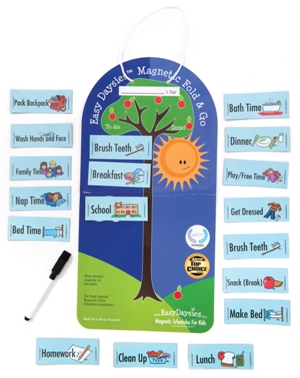 The EasyDaysies Magnetic Schedule was created by a Mom of three and she's got scheduling down pat! The simple board helps structure kids' daily routies while teaching them independence, self-discipline and sight word recognition. With the "To Do" and "Done" columns, you can also use it as a reward system. This starter kit comes with the board and 18 Magnets that cover everyday activities such as get dressed, do homework, and bath time.
This week, we're also offering a 15% discount on the supplemental kit for Family Activities. This pack includes 9 magnets to add to your schedule that families often do together such as shopping, movie night, church and more.
This week only, save 15% on both the EasyDaysies Magnetic Schedule for Kids and the Family Activities Kit by entering the Promo Code BLOGEDMS at checkout.
*Offer expires on April 24, 2012 at 11:59 pm EST. Not compatible with any other offer. Be sure there are no spaces after the Promo Code when you enter it at checkout.