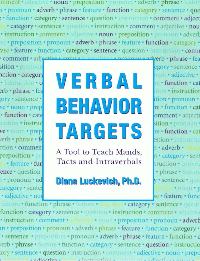 As the school year rapidly approaches, many of you teachers out there will have your hands full with assessments, IEP development and planning, all in addition to the excitement of getting to know your new students. Verbal Behavior Targets: A Tool to Teach Mands, Tacts & Intraverbals can save you tons of time and energy by providing you with comprehensive word lists that can be used for both assessment and teaching. This is a vital resource for anyone teaching language to a student with Autism or speech and language delays.  The book consists of words and word combination lists categorized by word families covering nouns including people, places, events and things inside and outside plus verbs, adjectives, adverbs, verbs plus nouns, nouns plus nouns, fill in the blanks, verb tense, receptive instruction, categories, features, functions and topics for conversation.
This week only, you can save 15% on Verbal Behavior Targets by entering the Promo Code BLOGVBT9 at checkout.
As one reviewer in Wisconsin puts it: "Special education programs are now an integral part of every public school system in the country. Among the student populations for which these programs are purposed are those students who suffer from language delays, most especially the growing number of children diagnosed with various forms of autism. Now classroom instructors and special education support staff working with these children can have access to a vital resource with "Verbal Behavior Targets: A Tool To Teach Mands, Tacts And Intraverbals", written by Diana Luckevich, an experienced data analyst with expertise in computerization applications in education. With a particular focus on autistic learners, "Verbal Behavior Targets" includes word lists and word combinations categorized by word families; accessible tools for children who are ESL learners; who have Down syndrome; who are autistic; or who are experiencing language delays; and/or are dealing with developmental disabilities. "Verbal Behavior Targets" also features common, functional and relevant language goals suitable for any child who is learning word skills. Enhanced with additional spaces and worksheets for teachers and involved parents to customize and track language for an individual child, "Verbal Behavior Targets" is an especially recommended addition for special education curriculum reference libraries and classroom lesson planning supplements."
*Offer expires on August 14, 2012 at 11:59 pm EST. Not compatible with any other offer. Be sure there are no spaces after the Promo Code when you enter it at checkout.