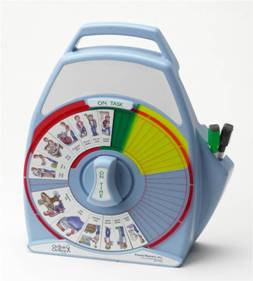 Help your child gain independence with the brand new On-Task On-Time scheduler and timer. This is a unique time management system that organizes three important routines of the day during the Morning (getting ready for school), Afternoon (school to home transition), and Night (getting ready for bed). Just apply one of the 52 task stickers on the routine disk, insert the disk to the unit and the individualized schedule for your child is complete. Turn stressful transition times into structured, self-esteem building experiences. Each unit includes the timer, 3 routine disks, a set of boy and girl stickers, two markers, and a wall hanger.
This week only, save 15% on this great new scheduling tool – the On-Time On-Task Timer – by entering the Promo Code BLOGONTOT at checkout.
*Offer expires on October 10, 2012 at 11:59 pm EST. Not compatible with any other offer. Be sure there are no spaces after the Promo Code when you enter it at checkout.