We're in absolute love with these new wooden puzzle games. How to describe all of the skills these three new games address? Each one is a beautiful wooden puzzle that comes with a booklet of patterns that  the player must recreate. They range from simple to challenging, even for the most experienced builders. Each game stretches a player's logical thinking skills, develops spatial reasoning and problem solving skills. All of the feedback we've received tells us that your kids won't notice any of that – they'll be having too much fun playing.
For the teachers out there, if you have a student that isn't interested in blocks but is crazy for cars or captivated by castles, these are the games for you! Each puzzle has a clear beginning, middle and end so they require less support, making them ideal for centers, activity schedules and independent play.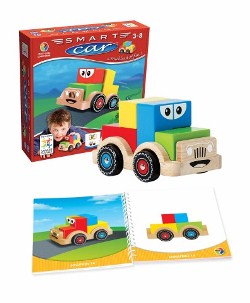 This is a truckload of fun that evolves with a child's growing and expanding skill set. The four included pieces produce 48 unique shapes and patterns! Younger players will love playing with the adorable block pieces and creating their own models while older players will be stimulated by the challenge of building a car to match the puzzle design booklet. Recommended ages 3 and up.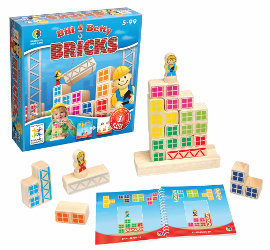 Little builders will have their work cut out for them as they create constructions using these brightly colored wooden blocks and figurines. Bill and Betty need to have their feet on the building at all times to supervise the work – and provide an added challenge. For students who love to build but resist incorporating figurines into play, Bill & Betty Bricks is a great solution. By pairing construction with characters and making them an inherent part of the game, players will receive a gentle introduction to the world of imaginative play. There are more than 60 challenges in the included booklet that range from simple to "wizard-level" so players of all ages will be engaged and motivated. Recommended ages 5 and up.
The challenge of this beautiful 3-D wooden puzzle is to assemble the blocks and towers into one of the castle designs in the booklet. From simple puzzles for inexperienced builders to complex puzzles that will challenge skilled architects, Castle Logix is designed to stretch a player's logical thinking skills and develop spatial reasoning abilities. It includes seven durable wooden castle pieces and a full-color, illustrated booklet with 48 multi-level puzzle challenges. Recommended for puzzlers ages 5 and up.
This week only, save 15% on these versatile new games by entering the Promo Code BLOGBCT9 at checkout.
*Offer expires on March 26, 2013 at 11:59 pm EST. Not compatible with any other offer. Be sure there are no spaces after the Promo Code when you enter it at checkout.