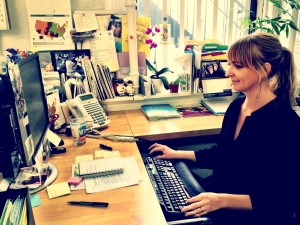 Almost everyone who calls our office has talked to Abigail at some point over the last 13 years. She's our go to person for all questions big and small. If you've had a question about a product, if for some reason something went wrong with your order, or if you created a something new and fabulous, you've probably spoken to her.
Abigail is head of operations here at Different Roads and really, so much more. She's our merchandiser, shaping our product line and catalog with the best materials out there for supporting ABA and VB Programs. She does her best to stay on top of what parents and teachers need and what's available, carefully curating our product line to include only the most useful and practical teaching tools. In addition to sourcing and selecting many of the great products you've come to love, she also creates and manages all of our print and catalog content, keeps our website current and accurate, and generates our blog and social media content. She keeps things over here running smoothly and efficiently.
She wears many hats at Different Roads which always keeps her on her toes. She is our go-to person regarding the ins and outs of each of our products; how they work, why you use them, if there happens to be a tortoise included in the Animals flash cards…you catch our drift. She's been our lead project manager on all of our Apps, collaborating with Julie and Stacy on content to bring our vision to technical reality.
Abigail and Julie also work closely together to stay abreast of changes and innovations in the autism community so that we can bring our customers not only the best products, but a reliable source of information from accredited resources and professionals.
Abigail joined Julie at Different Roads in 2000, fresh out of Brown University, back when we operated out of the hallway in Julie's apartment. It was an immersive education, learning about how to run a small business and what it actually meant to have a child on the spectrum.  Julie's daughter Miranda was always in a therapy session or watching the Muppets Take Manhattan down the hall. Operating out of Julie's home gave Abigail a deep insight into the realities and needs of children with ASD as well as their families in addition to the intensive behavioral therapy so crucial to their growth and success.  Abigail has a deep connection to the community and an empathy that drives her each day.  Her top priority remains supporting teachers and families in their quest to help their kids.