Christmas has its own set of unique stresses that may affect your child and make it difficult to uphold holiday traditions with the whole family. Here are eight tips to help ease the stress for everyone.
Create a visual or textual schedule
A lot of anxiety and confusion can be avoided by creating a schedule of the week or the day of Christmas. The schedule can be created to meet your particular child's needs and can utilize pictures, texts, or an actual calendar. When possible, have your child participate in creating the schedule, and try to ensure that highly preferred activities come directly after less preferred activities.
Provide choices
This is a huge part of assisting your child in achieving success in any endeavor. As described above, you may use visual, textual, or verbal cues to provide choices. Choices can be between large activities, such as "Do you want to go see Santa or do you want to go shop for this year's ornament" or can be between smaller activities, such as "Do you want to listen to Christmas music with the family or watch a Christmas movie with the family?"
Make an accessible safe space away from lights, music, or crowds
You may need to do this in the home where you are celebrating the holiday or in public spaces as you prepare for the holiday. It is important that your child have a way to appropriately communicate his/her need for a break and that need is respected.
See if there is a Quiet Santa or Sensitive Santa event available in your area
In many places there are now days in which visiting Santa has been organized to be more accessible for children with autism and other developmental delays or sensory needs. This is a good option if your child struggles with tolerating long lines, loud noises or music, or flashing lights.
Give a job/task
Leading up to the holidays, try to find tasks that your learner will enjoy such as decorating cookies, stringing the lights on the tree, or putting stamps on the envelopes for this year's card. Having a meaningful and enjoyable job will improve the holidays for both your child and the rest of the family.
Find Christmas-themed activities your child can enjoy with the whole family
While your family may have many traditions that are important for you, it may not be necessary for your child to participate in all of them. It can be beneficial to create new traditions that are of high-interest for your child, such as a Christmas puzzle, Christmas bingo, or a round of 20 questions with Christmas-related answers. You can include these as part of a schedule, with the highly-preferred activity placed after a less preferred activity.
Pair Christmas activities with things your child enjoys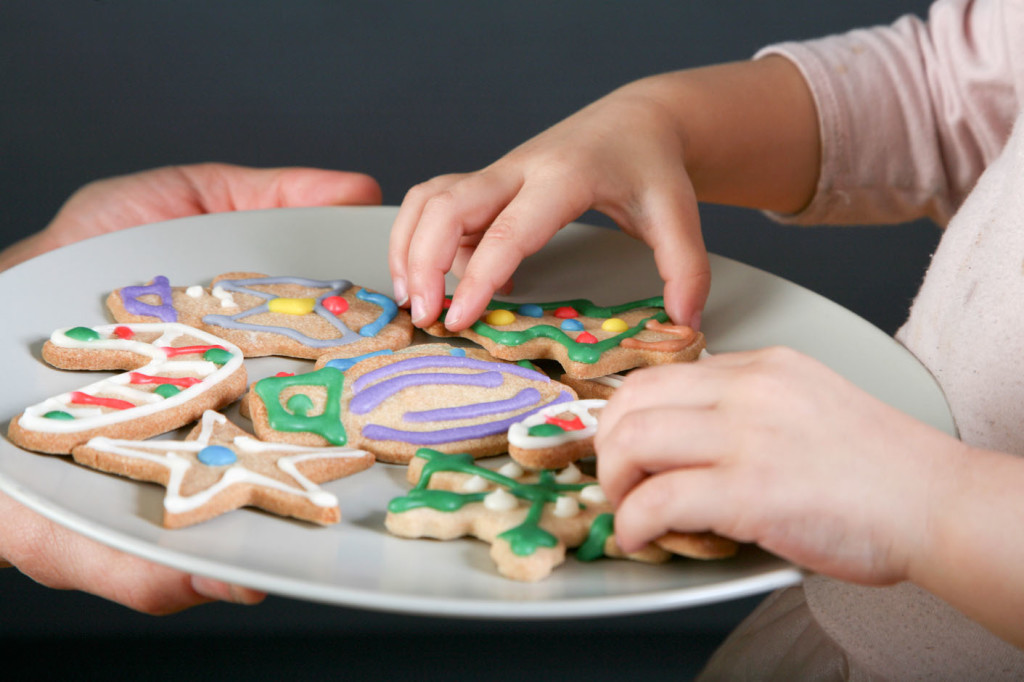 There are likely activities most people enjoy that your child is unable to tolerate. Try to pair these difficult activities with activities/items that your child does enjoy. For example, if your child is unable to tolerate the sounds and energy level of the whole family unwrapping gifts, you can pair that activity with something highly desirable that is frequently unavailable such as a specific toy or listening to his/her favorite song on headphones. You can ensure greater success if you have a few pairing sessions before the big day. For this example, you might have family members unwrap one box while your child has the preferred item/activity, then have family members unwrap 3 or more boxes while your child has the preferred item/activity.
Acknowledge your child's successes
Let your child know when they're participating in activities in appropriate ways. This can be verbal praise, physical reinforcement such as high fives, or access to preferred items.
Finally, remember that while you may need to make modifications, over time you can change those modifications to meet the changing needs of your family and your child. Changing or removing one or more holiday traditions this year does not mean they are gone forever, and reducing the stress of Christmas this year will increase the likelihood of happier Christmases in the future.