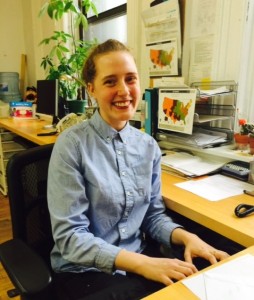 We're so pleased to introduce you to the newest member of our team, Hannah Toale.
Hannah joined us in October and has been brightening our days since. That warm and welcoming voice you hear when you call? That's Hannah. She joins us out of Smith College with a degree in Physics and fresh off a stint as Onsite Sales Supervisor at the illustrious High Line here in NYC.
Hannah has been hard at work coordinating all of our conferences and events, presenting Different Roads from Philadelphia to Ohio, New York to North Carolina (we're trying to make our way West!). If you have an upcoming event, be it a conference, support group meeting, or professional development day, shoot her an email at hannah@difflearn.com and she'll find a way for us to participate.
In addition to planning all of our conferences and outreach, Hannah is also our primary customer service person. It's Hannah's lovely, helpful and kind voice you hear when you call. She's a delight to have in the office with her can-do attitude and willingness to always go the extra mile for all our customers. We're sure anyone who has talked with her will agree!
Natasha asked Hannah a few questions about how she's settling in so far…
Tell us a bit about yourself. You were a physics major and worked at the world famous High Line. How is the transition to client sales and conference coordinator going?
I studied physics at Smith College with the end goal of being a teacher. I think that many people are so intimidated by math and science they find it difficult to even approach the subjects. I truly believe that people are much more capable then they believe themselves to be and that with patience and approaching a topic from different angles there is so much room to learn and grow. These ideas were what drew me so strongly to Different Roads to Learning. The people and products here help teachers, parents, and care givers work with young children to accomplish a great deal with conventional and unconventional tools. For example the MotivAider, which can be used to help form or break habits for children and adults. Or the Time Timers to help visualize the passing of time. All of the products that Different Roads to Learning has cultivated over the past 19 years are to make learning and developing less intimidating and more fun and attainable and I am very excited to be a part of it.
What part of your day do you most enjoy?
I have really enjoyed answering the phone, even if that sounds silly.  I love being able to help people in whatever way I can and to make the ordering process as easy as possible. I have been able to speak with people all over the U.S. and occasionally receive calls other countries. It is so amazing to me that there are people all over the world with the same goal -helping young learners and Different Roads to Learning seems to be a place they can all go for materials and guidance. Being the first person a customer will talk to and either helping them, or asking someone who can makes it so much fun to work here. Also… working in an office with all of these games and toys is indisputably awesome.