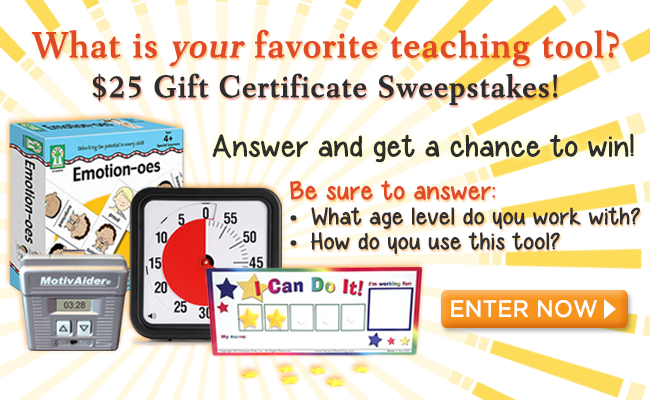 We're continuing the fun this week with another interactive giveaway for you! Share your response on Facebook (or privately in this form here): What is your favorite teaching tool? and be entered for a chance to win a $25 Gift Certificate to shop from our website and catalog!
We'd love to hear about your go-to teaching tool. More specifically, what is it, what age level is it primarily for, and how do you incorporate it into your teaching? What do you love most about this tool? Our community will be eager to hear your experience using this product and how your child or student has benefited from it!
How it works:
Click on the "Enter Now" button above.
You'll be directed to the interactive submissions post on our Facebook page. (If you haven't yet liked our page, go ahead and like it!)
Leave your response in the Comments section of the post. And don't forget to hashtag #AutismAwareness!
If you prefer to share your response and feedback privately, use this online form here. Your response will automatically enter you to win a $25 Gift Certificate from Different Roads! One winner will be chosen at random.
Submissions will be accepted through next Monday, April 20, 2015. The winner will be announced on our Facebook page next week, so stay tuned!
*Different Roads to Learning reserves the right to remove or delete any submissions containing hate speech, profanity, personal attacks, and threats. We also reserve the right to remove or delete any comments containing spam or viruses, solicitations/advertisements of non-autism-related content, or the private information of individuals. We reserve the right to use private responses when announcing the winner of the sweepstakes.