Happy November, Different Roads family!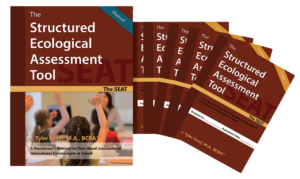 We're incredibly excited to announce our newest product, the Structured Ecological Assessment tool (SEAT) by J. Tyler Fovel, M.A., BCBA.
The SEAT is a structured protocol and manual that guides you through the process of conducting an Ecological Assesment. It provides forms, data-sheets, graphic display grids, and even report samples to take you from referral through data compilation and effective reporting.
This innovative new protocol and manual for school inclusion settings from the author of The New ABA Program Companion provides essential structure to facilitate ecological assessment of inclusion settings that is systematic with ABA principles and straightforward to implement.
WHY USE THE SEAT?

* Teams use the SEAT with students making transitions between programs, supplementing the typical discussions between sending and receiving teams for a smoother transition
* For students who are less-than-engaged in class and exhibit off-task behavior, the SEAT assessment helps teachers identify and eliminate barriers to on-task behavior and, as efforts are made to resolve issues, provides both a baseline and a convenient on-going monitoring vehicle for both the student's behavior and any continued existence of the barriers
* When evaluating student readiness, the SEAT identifies the key skills actually reinforced in target environments, so that specific, concrete, realistic preparations can be implemented
Save 15% on your purchase of this exclusive class set of one protocol and five manuals this week only by using promo code SEATNEW at checkout!