By Jen Knott, BS Recreation Therapy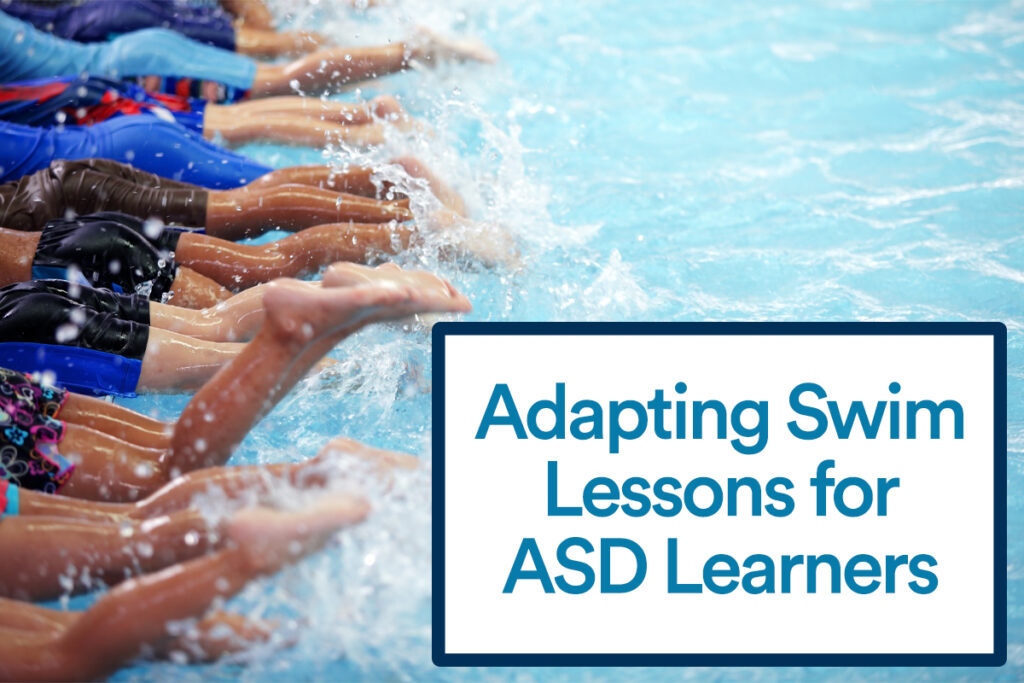 Swimming is a whole-body skill and oftentimes challenging for individuals with autism to master. It requires the use of your arms, legs, core, breathing, spatial awareness, sensory regulation, as well as strength, endurance, motor planning and coordination.
When designing swim lessons for swimmers with autism, working on all the skills listed above via structured activities allows the swimmer to enhance their brain/body connection in many different movements. This approach assists in skill mastery at a faster rate. Specifically, it allows the individual to practice motor planning and strengthening skills such as crossing midline, coordinating arms and legs at the same time, and using arms in a reciprocal motion.
The more individualized, creative, and motivating you can make the activity, the better! Below are some specific actions that can be taken to help acclimate your autistic learner to the basics of swimming!
For example, floating in supine position (on your back) is an essential safety skill that all swimmers should learn. There are many creative ideas to work on this skill, and some can even be done at home! Laying on your back can be an unpreferred skill at home and while sleeping due to the changes in the position in the inner ear. Floating can feel very different to swimmers with autism and they often demonstrate a resistance to the position. Taking small steps in a variety of settings to introduce this skill is key.
Laying on your back on the bed, floor, or couch provides a similar feeling to floating with support.
Having a child's head slightly off the couch or bed can also provide the feeling of floating and locating their body in space.
In the bathtub you can work on this skill by having swimmers lay on their backs while putting their head back in the water or looking up at the ceiling. This can be done while seated or lying down, any progress is a step in the right direction.
Placing one ear at a time in the water can be helpful to slowly introduce the feeling of the water. We often use songs like Twinkle, Twinkle Little Star, Humpty Dumpty, and counting to assist in distraction from the water in ears and also provide a clear ending to the skill when the song ends or counting reaches 10.
You can also place items on the swimmer's stomach for postural and tactile support that provides input and focus for the swimmer on something other than the feeling of the water in their ears.
In the pool, start with laying in a zero depth entry pool at the entrance, move to looking up in a seated position, and then transitioning to a supine position over time can help ease into it. Often having a hard, grounding surface beneath them can provide the feedback needed, to make the position more comfortable.
Mats, noodles, floatation devices, and neck floats are a few examples of equipment that can be used to assist in floating in the supine position.
Swimmers can also hold onto the side of the pool and work on looking up at the ceiling or preferred object. Allowing the swimmer to control the speed and amount of water they place their head in can give a sense of control and comfort.
This can then be shaped into leaning back to place their head on parents or instructors shoulder, providing support at the lower back, shoulders, and head. Fading support is important when the swimmer is ready, providing support just at shoulders and head, then just the head, then independently floating!
These techniques can also be used for submerging under water and floating in prone (on your stomach) position, taking it slow, using motivating items to look for under the water, slowly introducing water to body parts, singing songs or counting, providing tactile support and fading it out when the swimmer is ready. Other activity ideas to complete in the water to develop and practice planning and strengthening skills would be jumping jacks, toe touches, jumping and splashing at same time, swinging a tennis racket or barbell across midline under water, reaching across body or reciprocally overhead for items, and pushing barbells reciprocally. Providing adaptations, creativity, and flexibility is key in all swim sessions for success. Using motivating items, playing games, providing a picture schedule, video modeling, accommodating for any sensory needs, and making the skills fun can help your swimmer succeed with even the most challenging swim skills!
Jen Knott, CTRS (Certified Therapeutic Recreation Specialist)
Jennifer is a graduate of Kent State University with a degree in Leisure Studies, with a concentration in Recreation Therapy and a minor in Psychology. Jennifer began Rec2Connect in 2009 with 2 clients. She launched the Rec2Connect Foundation in 2014. Her previous experience includes: Classroom Behavior Therapist at Cleveland Clinic Center for Autism, Job coach at Goodwill Industries, Volunteer in Aquatic Therapy at Hattie Larlham in the Physical Therapy Department and Recreation Therapist at the Cleveland Clinic.