By: Caitlin Reilly Lostan, PsyD, BCBA, NCSP (Breakthrough Learning Group) and Marcia Questel, MSEd, BCBA (Association for Science in Autism Treatment)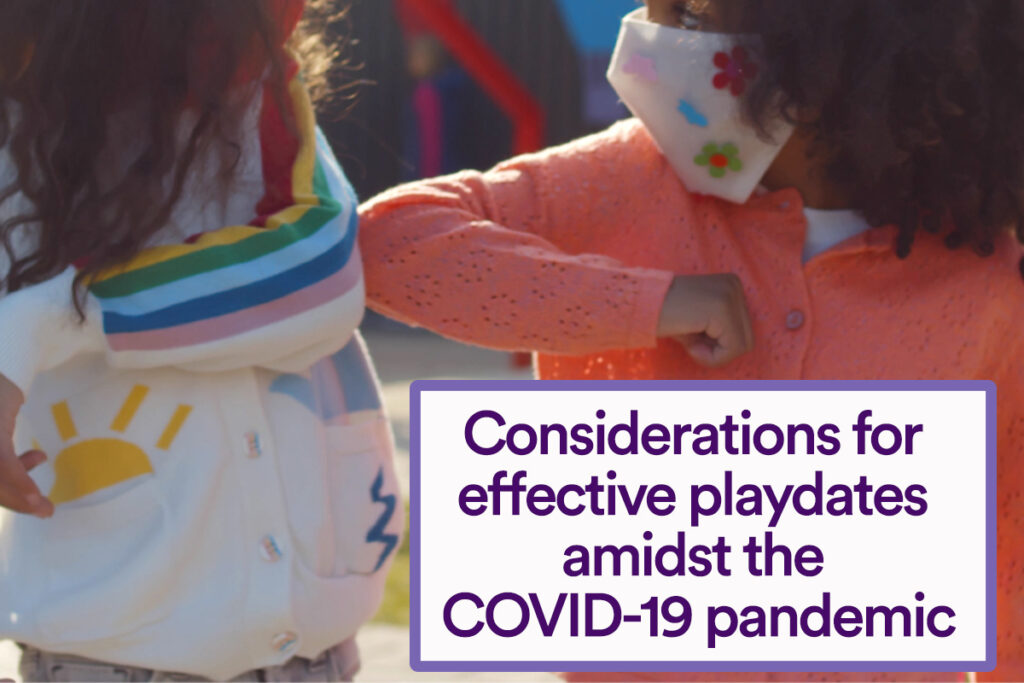 (The following is an excerpt from Lostan, C., & Questel, M.'s "How can I structure playdates for success?" featured in Science in Autism Treatment. The full article can be found here.)
Given the circumstances surrounding the COVID-19 pandemic, many families may still be limited to distanced interactions with others. Generally, the guidelines reviewed thus far can be used as a blueprint for both distanced and in-person social skills sessions or playdates; however, the following summary addresses accommodations that may be necessary to maintain health and safety. Families and professionals may also consider these recommendations during the flu season or whenever they deem necessary.
1. Consider your comfort level. Now that infection rates are relatively low and restrictions are lifting across the United States and across the globe, many families feel comfortable socializing in nearly pre-pandemic fashion. However, during previous waves of the pandemic, when infection rates were high, some families created "pods" with neighbors, family members, or close friends, where all individuals within a household quarantined/safely social distanced so that typical social interaction could take place when the individuals gathered. Note that, for that to have been possible, families would have already agreed that socialization was an important part of their lives. To be sure that you are paired up with families that your child socializes with successfully, consider proactively getting involved when infection rates are low. In contrast, if risk factors are very high, you may only be comfortable holding socially distanced sessions in the form of video conferences to eliminate all risks related to COVID-19. While telehealth has been proven effective, there is a learning curve to working with this technology in meaningful ways. More on this option can be found below. The increase in vaccines being offered to children may also offer some assurance of safety, although many families are wary of vaccination in general and specifically with the latest COVID-19 vaccines. This is a personal choice, but rest assured that no matter which format you are comfortable with, your child can continue to develop their social skills with peers!
2. Teach your child to wear a mask and/or face shield. It may be necessary to include "tolerating a mask" in your list of prerequisite teaching targets. Tolerating a mask will likely open more playdate and social activity options for your child. If your child will be hindered by the inability to view another person's face, consider investing in a face mask with a clear plastic mouth cutout, or a face shield.
3. Plan for teaching socially distanced peer interaction skills. Social distancing does not have to get in the way of teaching social and play skills. Socially distanced activities that may be incorporated into social skills sessions include arts and crafts (potential teaching targets might include giving and receiving compliments, asking and answering questions, showing and describing art), baking/cooking with separate materials, playing video games online, or playing other games that do not involve physical social interaction (e.g., charades).
4. Hold social skills sessions outside. Outdoor playdates may be a helpful strategy to allow your child to continue learning social and play skills. Scavenger hunts, playing organized sports games, or going to an activity such as the zoo are suggestions that may be useful for an outdoor playdate. Do keep in mind safety precautions when considering outdoor playdates (e.g., proactive plans for children who tend to wander, elope, or don't recognize/respond to their name, etc.).
5. Hold virtual playdates. Using Zoom or Facetime to help your child practice peer social skills may be appropriate for some children and their families. It eliminates any COVID-19 risk, is a low investment, and allows each child to remain in the comfort of their own environment. Tele-playdates may be especially helpful if your child can only tolerate short periods of social play demands (based on his increased comfort and confidence, the length of the session can be gradually extended). Tele-social skills sessions can be especially helpful for working on fundamental conversational skills. For example, the peer could work on helping your child learn to imitate, follow simple directions, or engage in various types of conversations. Because driving is eliminated, these sessions often go uninterrupted by harsh weather (storms, snow, etc.), and can be done from virtually anywhere.
6. Educate your child on COVID-19. If appropriate, explaining the safety measures for interacting with peers may be helpful. Your child may be more willing to wear a mask, keep a safe social distance, and tolerate other safety measures if they understand why they are necessary.
While the COVID-19 pandemic may require some creative planning and execution, it does not have to prevent your child from continuing to develop their peer social and play skills.You will find a mock example of a progress monitoring sheet below that can track your child's progress. Should constructing a social skills program feel daunting, consulting with a BCBA or another suitable professional may be helpful for planning and implementing effective playdates. However, remember, you are your child's first teacher! Equipping yourself with the instructional skills to help your child develop social skills will bring long-term payoffs for you both. In addition, your child will be afforded opportunities to enjoy new friendships and play activities!
Example: Social Skills Progress Monitoring (Lostan, 2022)
Adult
Peer
Social Skills Goal
Start Date
Goal Met Date
Start Date
Goal Met Date
Looking in response to name being called
Maintaining eye contact during a verbal exchange
Following one-step directions
Imitating another person's actions
Identifying "What am I pointing to?" (perspective taking)
Identifying, "What am I looking at?" (perspective taking)
Calling a person on Facetime and saying, "Hi"
Playing Cornhole
Playing 1 board game: "Guess Who"
Remaining on topic for 2 exchanges
About the Authors:
Caitlin Reilly Lostan, PsyD, BCBA, NCSP is a NJ licensed psychologist, board certified behavior analyst, and NJ-licensed/nationally certified school psychologist. Dr. Lostan obtained her MA in psychology in education from Columbia University, and her PsyD in school psychology at Fairleigh Dickinson University. Dr. Lostan's dissertation focused on the components that contribute to autism awareness. She is the founder and director of Breakthrough Learning Group, a pediatric therapy practice providing ABA and psychological services for young children.
Marcia Questel is a BCBA with a Master's degree in Special Education (Concentration – Autism) and Graduate Certificate in Applied Behavior Analysis from Long Island University. She obtained her Bachelor's degree in Developmental Psychology with a focus on autism and other developmental disorders, where her passion for researching executive functioning (EF) and Theory of Mind (ToM) began. Her journey in this field started 20 years ago while volunteering in an early intervention center. It was at that time that autism became a part of her and her family's lives, with a family member's diagnosis. Since then, 3 other members of her extended family have received diagnoses of autism, and she has remained dedicated to the autism community. Previously, Marcia provided 1:1 instruction, managed an autism center in New York, and taught piano to children with autism and their siblings. Marcia is currently working in private practice, providing consultation to families and school faculty, and is a Content Editor for ASAT's monthly publication, Science in Autism Treatment. She is also the Externship Co-Coordinator for ASAT. In response to the current climate, she is conducting research regarding access to telehealth during the COVID-19 pandemic, engaging in telehealth and in-person services through ABAskills, LLC, and is creating supportive content for parents and professionals. Marcia is also a research assistant at the Affect Regulation and Cognition (ARC) Lab at Yale University.
Citation for full article:
Lostan, C., & Questel, M. (2022). Clinical Corner: How can I structure playdates for success? Science in Autism Treatment, 19(5).