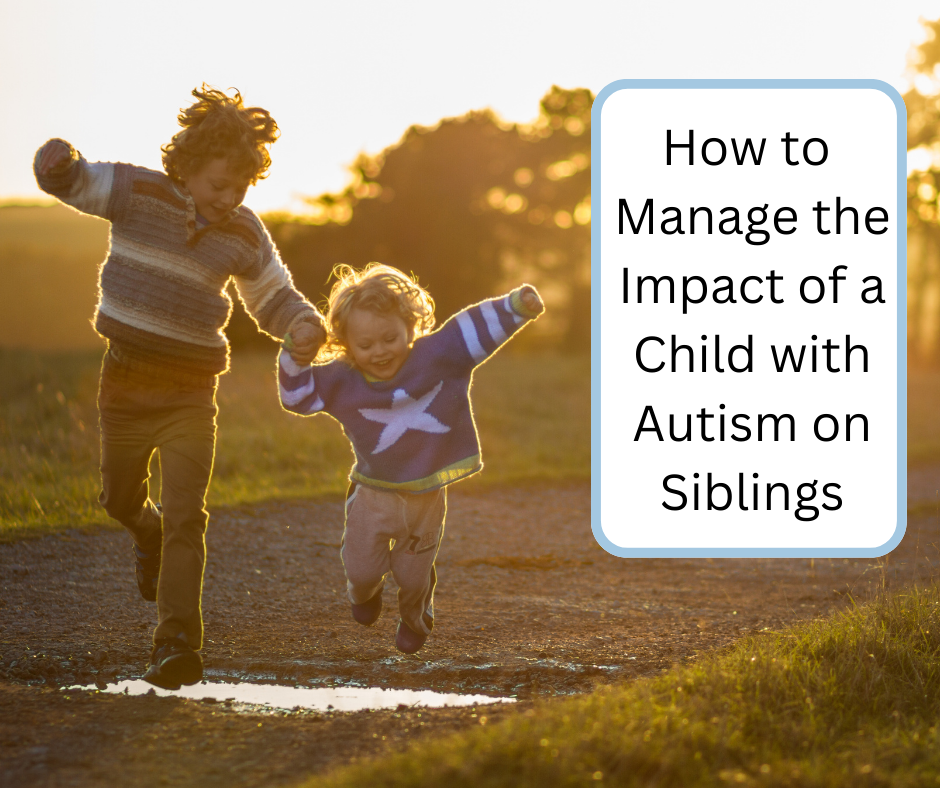 This month's ASAT feature comes to us from Mary Jane Weiss, PhD, BCBA-D and Nicole Pearson, PsyD, BCBA-D, Association for Science in Autism Treatment. To learn more about ASAT, please visit their website at www.asatonline.org. You can also sign up for ASAT's free newsletter, Science in Autism Treatment, and like them on Facebook!
I am a mother of three children, one of whom has autism and requires a tremendous amount of time and care. I worry about how this is impacting my other children, both of whom are a few years older and are very aware of how our family has changed because of their sibling's diagnosis. Do you have any advice on how to best address this with them?
Answered by: Mary Jane Weiss, PhD, BCBA-D and Nicole Pearson, PsyD, BCBA-D, Association for Science in Autism Treatment
Having a child with autism spectrum disorder inevitably impacts the entire family, from the stress and anxiety that accompanies the initial diagnosis to the time-intensive nature of navigating treatment options and providers. It can also present challenges for siblings.
While children of younger ages may not be fully aware of their sibling's disability, they likely detect parental stress, perceive inequities in the amount of time and attention given, and struggle with a sense of disruption in overall family life (Feiges & Weiss, 2004; Smith & Elder, 2010). Adjustment difficulties are influenced by such factors as sibling age and gender as well as family size. Siblings closer in age to the child with autism, and those who are younger and have not yet developed effective coping strategies can be more affected. However, as a parent, there are many strategies you can take to support sibling coping and adjustment.
Foster a supportive environment at home
Siblings may feel many emotions, including love, joy, fear, anger, embarrassment, resentment, and guilt, among others. Encouraging an environment of open communication allows the sibling to safely express all emotions. Doing so helps with positive coping and establishes a foundation for good familial communication and problem-solving.
Further, as siblings become aware of such differences, they will likely look to their parents and family members for guidance. Thus, parent coping and adjustment play an important role in sibling adjustment. As such, it is important for parents to be cognizant of the impact their actions, behaviors, and decisions will have on all their children.
Ensure your child understands what autism is
Parents sometimes overestimate their typical child's understanding of autism as the child may be able to explain what it is without fully comprehending it. Making sure that siblings have developmentally appropriate information will help reduce their fears and misconceptions (Glasberg, 2000; Harris & Glasberg, 2003).
When speaking with children under age nine, parents should keep explanations brief and frame the sibling with autism's deficits in the context of having not yet learned or mastered particular skills, such as playing with others or communicating in ways that other children do. For example, saying, "Your sister learns a bit differently than you and me, so she needs extra help," or "Your brother may not be able to talk but we are teaching him other ways to show us what he wants to say."
As children age, explanations can be more involved. Behavioral escalations can be disruptive for typical siblings, so providing them with clear explanations can help alleviate some of these feelings. Regardless of the children's age, parents should offer reassurance and convey love and acceptance of everyone in the family. There are several free online resource guides available:
Autism Speaks offers a "Siblings Guide to Autism" toolkit designed for siblings ages 6-12 that parents and siblings can read together to learn more about autism and facilitate conversation about it
Organization for Autism Research's "Kit for Kids" offers an illustrated booklet for elementary and middle school students, called "What's up with Nick?" and "Autism, my sibling, and me"
Promote meaningful relationships between siblings
Creating opportunities for younger children to play together or helping older siblings to find common interests, even if it's as simple as doing a puzzle together or playing a video game, can go a long way in increasing the quality and quantity of interactions and ultimately building sibling bonds.
Being mentors to one another can be very fulfilling for siblings and can promote bidirectional feelings of self-efficacy and nurturing. Prior to starting, make sure that the preferences of both children are understood, and start with easy tasks to ensure success. Perhaps the autistic sibling is great at puzzles, while the typically developing sibling is great at following recipes to bake.
Whenever possible, involving the individual with autism in the discussion of autism is preferred. If it is possible to share information about autism openly and in their presence, it may be helpful to do so. For children who do not yet understand much about their autism, it is important to be as respectful as possible when explaining it to others, discussing it, or otherwise referring to it.
Build one-on-one time for each sibling and foster individuality
While inequities exist in all families, they are intensified in a family who has a child with autism. And if typical siblings feel dissatisfied with these inequities, their relationship with their sibling with autism is negatively impacted (Rivers & Stoneman, 2008). To help minimize the impact of these inequities, it's important to make time for one-on-one interaction with each sibling. Carving out even a small amount of time where you're giving your child your undivided attention can go a long way. Let them know that even though they may not always get as much attention as their sibling, they're loved and cared for equally.
Encourage siblings to get involved in sports, clubs, or other community activities where they can develop relationships with peers and just have fun. Doing so allows them the time and space to be their own person and establish a sense of individuality (OAR, 2014).
Consider additional sources of support
Finally, sibling groups can be a helpful source of support. They provide siblings the chance to meet and speak with others with similar experiences and can give them accurate and age-appropriate information about autism. If a support group isn't readily available within your children's school or your community, consider looking at some of the following resources for more information:
Sibling Support Project: Offers more than 475 community support programs, called SibShops, for younger siblings of children with special needs.
Online resources: There are several online communities for siblings, both teens and adults:
The Organization for Autism Research (OAR) has also developed the "Autism Sibling Support Initiative" offering helpful resource guides for young children, teens, and parents.
While much is often said about the challenges faced by siblings of people with autism, there are also substantial positive outcomes. Most siblings who reflect on the experience in adulthood attribute their high levels of compassion, tolerance, patience, and concern for others to having had a sibling with special needs. Furthermore, many of them develop a sense of mission and enter helping professions.
There is no universal description of the ways in which this role changes the lives of siblings of children with autism. Parents can help their typically developing children by creating an environment of transparency and openness about autism. They can help siblings find effective and rewarding ways to interact with their brother or sister with autism. Parents can also ensure that every child in the family gets needed attention and permission to pursue their own dreams. Finally, they can remember that most siblings of children with autism end up being compassionate human beings who treasure and admire their siblings, and who note both the struggles and joys that the family experienced because of being touched by autism.
Note: This submission was adapted from Drs. Weiss and Pearson's book chapter, "Working effectively with families of children with autism spectrum disorders: Understanding family experience and teaching skills that make a difference" which appeared in "School success for kids with autism."

References:
Feiges, L. S., & Weiss, M. J. (2004). Sibling stories: Growing up with a brother or sister on the autism spectrum. Shawnee Mission, KS: Autism Asperger Publishing Company
Glasberg, B. A. (2000). The development of siblings' understanding of autism and related disorders. Journal of Autism and Developmental Disorders, 30, 143-156.
Harris, S. L., & Glasberg, B. A. (2003). Siblings of children with autism. Bethesda, MD: Woodbine House.
Organization for Autism Research (OAR). (2014). Brothers, sisters and autism: A parent's guide to supporting siblings. Retrieved from: http://www.researchautism.org/family/familysupport/documents/OAR_SiblingResource_Parents_2015.pdf
Rivers, J. W., & Stoneman, Z. (2008). Child temperaments, differential parenting, and the sibling relationships of children with autism spectrum disorders. Journal of Autism and Developmental Disorders, 38, 1740-1750.
Smith, L. O., & Elder, J. H. (2010). Siblings and family environments of persons with autism spectrum disorder: A review of the literature. Journal of Child and Adolescent Psychiatry Nursing, 23, 189-195.
Weiss, M. J., & Pearson, N. K. (2012). Working effectively with families of children with autism spectrum disorders: Understanding family experience and teaching skills that make a difference. A. L. Egel, K. C. Holman, & C. H. Barthold (Eds.). School success for kids with autism. Waco, TX: Prufrock Press.
Citation for this article
Weiss, M. J., & Pearson, N. (2016). Clinical Corner: How to manage the impact of child with autism on siblings. Science in Autism Treatment, 13(2), 22-26.
About the Authors
Dr. Mary Jane Weiss, Ph.D., BCBA-D, LABA, is the Dean of the Institute for Applied Behavioral Science, the Director of the Ph.D. Program in ABA, and a Professor at Endicott College, where she has been for 11 years. Dr. Weiss also does research with the team at Melmark. She has worked in the field of ABA and autism for over 38 years. She received her Ph.D. in Clinical Psychology from Rutgers University in 1990 and she
became a Board Certified Behavior Analyst in 2000. She previously worked for 16 years at the Douglass Developmental Disabilities Center at Rutgers University. Her clinical and research interests center on defining best practice ABA techniques, exploring ways to enhance the ethical conduct of practitioners, and training staff to be collaborative, compassionate, and culturally responsive. She is on the board of ASAT.
Dr. Nicole Pearson, PsyD, BCBA-D, is a Licensed Psychologist and Board Certified Behavior Analyst (BCBA-D) who has been working in the field of autism and developmental disabilities for more than13 years. Passionate about serving children with complex medical, behavioral and mental health needs, Dr. Pearson has worked across a number of settings including hospitals, clinics, homes and schools. Most recently, she served in a dual role as Program Director and Director of Psychological Services at The Joshua School. Dr. Pearson provides consultation and training to schools and families through her private practice, West Side Behavioral Associates. She has also volunteered with autism programs internationally in Kenya and the Maldives. Dr. Pearson holds Master's and Doctoral degrees in Psychology from Fairleigh Dickinson University and a Bachelor's degree in Business from Villanova University. She currently serves on the Board of Directors for We are the Village Ltd. and A Global Voice for Autism.