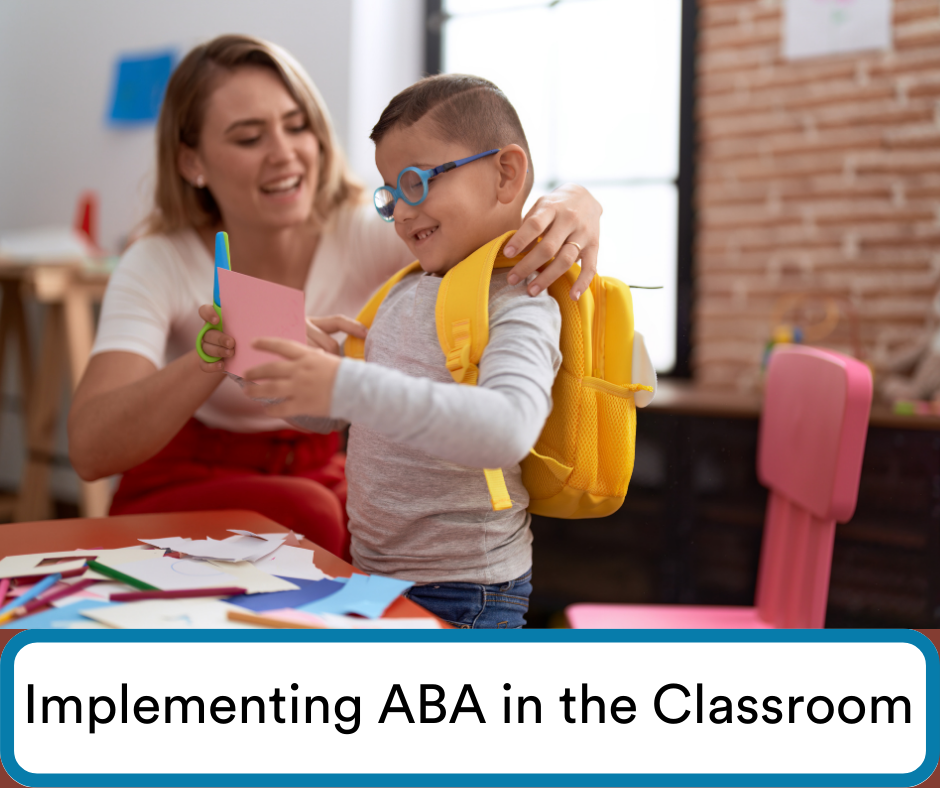 By Heather Hoeft, B.S., M.Ed., LBS1 | Reposted with permission from The Autism Helper
Many of us know the advantages to ABA (applied behavior analysis) and what it can do for not only people with Autism, but in changing any human behavior. ABA was not started because of Autistic individuals. ABA is the science of human behavior that uses techniques and strategies to change behavior. Using techniques that are aligned with ABA can be used within any classroom; special education, general education, with resource teachers, in outplacement schoolings, with related services, and so much more. ABA can be used for students and staff alike, and in this post, I will give some strategies on how!
What are the ABA Techniques?
The techniques that I am referring to are reinforcement, differential reinforcement, functional communication, prompting, modeling, discrete trial training, natural environment teaching, shaping, and chaining. All of these can be implemented within a classroom setting in some capacity. But how? I have lived how hard it can be to have many learners on individualized education programs as well as different reinforcement systems, related service schedules, mainstream minutes, etc. It is possible, but it isn't easy, that I wouldn't lie about. I have provided some examples below:
Reinforcement: There are many different types of reinforcement schedules within ABA. Although implementing them within the classroom per learner may be difficult, reinforcement schedules are possible. Using a token economy or task strips per learner will increase the likelihood of the targeted behavior within the classroom. It is also possible to use learner specific reinforcement within the classroom. This means that we can use M&Ms for Johnny and fidget spinners for Sally. Each learner still has their own set of reinforcers, and each learner should be on their own reinforcement system throughout the school day.
Functional communication: this should be a focus in all classrooms, whether a learner is using an AAC device, Picture exchange communication system, or using vocal language. Functional communication should be practiced with all learners throughout the day and is a skill that ;learners need to practice. Having communication skills within a repertoire specific to a learner will help decrease maladaptive behaviors and will make difficult behaviors more manageable to shape.
DTT: running DTT sessions can happen throughout center rotations and during other blocks of time throughout the school day appropriate for each learner. The educational team can meet and decide how many DTT table sessions per hour is appropriate per learner, as well as where they should be run and during what times of day they will be implemented. I take advantage of my related service team members and work together to create rotation scheduled throughout the whole week in order to maximize 1:1 time with each student in the class.
NET: In naturalistic teaching, the child sets the pace for learning in their daily routines. Naturalistic teaching capitalizes on a child's natural interests, needs, and abilities. These strategies are incorporated in the moment throughout the school day instead of using a dedicated time period for treatment. Teachers using this strategy offer feedback and coaching for target behaviors as they happen so that they can minimize interference with learning. A type of naturalistic teaching specifically used to improve communication skills is incidental teaching. In incidental teaching, the environment is set up to encourage students to use communication skills to ask for what they want. Similarly, the natural language paradigm method involves arranging an environment to increase the chances for the student to use language.
Chaining: when teaching functional routines, choose what type of chaining procedure would be the best per routine and per learner (backwards chaining, forward chaining, whole chain). Mapping a plan out in the beginning per learner and per routine will make training staff much quicker and the learner will progress and gain the skills when the appropriate chaining procedure is in place.
What may be impossible in a classroom?
I don't like to say that anything is impossible. It may be difficult to implement with fidelity which can be discouraging and of course a disadvantage. Of course, the school setting has its own standards and skills assessments in which teachers much target to teach their students. Student goals may also last longer. From my experience in both an ABA clinical setting, a therapeutic day school setting, and a public-school setting, educational staff write goals that are broken down into benchmarks that typically last for one year. In an ABA setting, those benchmarks may be written as their own goal with specific targets listed underneath and they are meant to be taught quickly and move on to the next skill or subset of skills. Shaping behavior and running DTT centers may also be difficult. An increase in support staff and adult to student ratios would be key to be able to run these techniques within a classroom. All settings have their disadvantages, so I would recommend talking with administration and the educational team of each learner on what is a priority and what can be implemented per learner with fidelity and integrity.
The Autism Helper is here to help
Not only does The Autism Helper have resources available for many skills and units that can be implemented within a classroom, there is also a VB-MAPP assessment kit and an ABLLS-R assessment kit. Many of our wonderful bloggers have shared information on how to use these, and both of these assessments are my typical "go tos" when reviewing progress of my learners and looking to see where to go next with them.
About the Author
Heather Hoeft is special education teacher in the preschool setting. Heather shares strategies and ideas from her self-contained classroom. Her classroom utilizes Applied Behavior Analysis instructional methods of discrete trial training, pivotal response training, and teaching functional routines. She received her Bachelor's degree in Early Childhood from Northern Illinois University and Masters in Special Education from Concordia University.