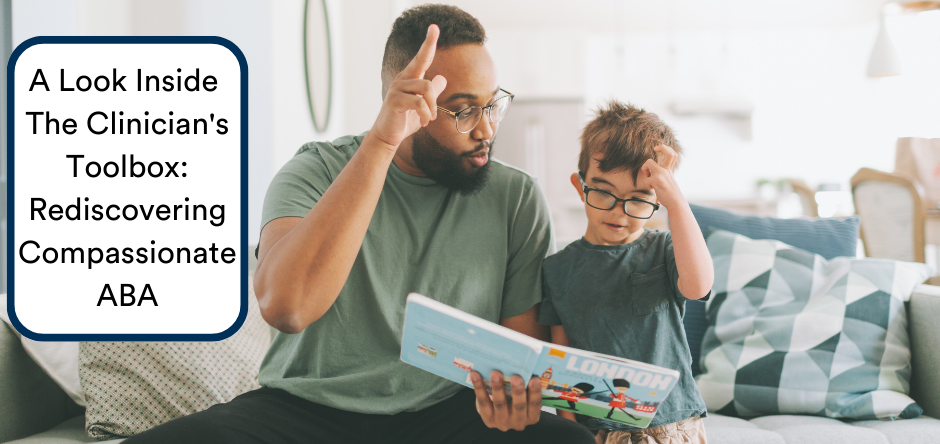 Take a look inside the newest book from Autism Partnership. Reprinted with permission from the authors.
Foreward
By Dr. Ron Leaf
I was sure that Clinical Judgement would be my last book. It was intended to help the new generation of behaviorists learn about some of ABA's pioneers that seemed to have been forgotten. Those that inspired us. How could I "retire" without people knowing about Joseph Wolpe, Sandra Harris and Don Baer? Recently, however, it became painfully clear that there is another area that has been sadly neglected.
Social media has been abuzz about a new movement: "compassionate behaviorism." I was perplexed! First, this group of social media bullies were discussing "compassion." Moreover, this small group of practitioners was acting as if old concepts such as "therapeutic alliance" and being "curious listeners" were new. They seemed unaware that Carl Rodgers discussed this in 1957 and, in 1999, Richard Fox shared his deep concern that behaviorists seemed to be neglecting the crucial need for becoming "behavioral artists."
If the agenda was to rekindle this neglected area, I would have been thrilled. But it seems there is far more to their movement and that their agenda is creating tremendous collateral damage. For example, they argue that true "compassionate behaviorists" should not give corrective, or sometimes even positive, feedback. In their view, all feedback is coercion. Of course, when providing corrective feedback, one should be sensitive and thoughtful. But to avoid corrective feedback completely is absurd, and ironically, not compassionate. I wouldn't be an effective baseball coach if I didn't tell a baseball player that he needs to track the pitch and stop pulling his head. I wouldn't be an effective teacher if I didn't provide corrective feedback regarding class presentations. And I wouldn't be a good partner if I resisted listening to my wife's feedback.
These practitioners also suggest that behaviorists should completely acquiesce to the agenda of their clients. That is, only work on those issues that the clients feel are important to work on. Obviously, we need to carefully listen to our clients, but often it is necessary to help our clients understand that only focusing on their top priority is not in their best interests. For example, a client may want to fix a toxic relationship, even when it's not possible and clearly not in their best interest. Or, a client may want you to help them convince their partner that it's okay for them to continue with their heavy drinking! Or that it's preferable for them not to have friends, even though the research shows this can lead to isolation, depression, suicidal ideation and suicide.
Perhaps the most disturbing aspect of this movement is that these "compassionate behaviorists" are providing guidance on how to treat trauma. In order to treat trauma, one must have extensive education, training and testing to ensure that one has the necessary skill set. Otherwise, treating someone with depression or post-traumatic stress disorder can lead to catastrophic consequences. Essentially, they are encouraging folks to practice psychology without a license which is not only a misdemeanor in many States, but it is extremely dangerous!
For me and my colleagues, it was imperative to write The Clinician's Toolbox: Rediscovering Compassionate ABA, not only to set the record straight about behaviorist history, but to learn from the clinical pioneers, and most importantly, to share the skills necessary to become effective behaviorists. Our goal is to inspire the new generation of behaviorists to receive the necessary education and training so they can truly become talented clinicians. Our ultimate hope is for the leaders in the field of Applied Behavior Analysis to understand that clinical training must become part of educational curricula, credentialling task lists and testing. Otherwise, we are not being "compassionate behaviorists"!
---
About the Book
Compassion is the cornerstone of effective ABA therapy, especially for patients with autism spectrum disorder. Compassionate care, however, is a skill set that has dwindled from the field of ABA in recent years. The Clinician's Toolbox: Rediscovering Compassionate ABA reminds practitioners just how important compassion is to their practice.
With tools for navigating the landscape of ABA as it exists today, The Clinician's Toolbox explores the range of skill sets that make up compassionate care—with patients, parents, and other practitioners. Making compassion clear and actionable, The Clinician's Toolbox is
a valuable guide for practitioners at any stage in their career seeking to expand their understanding and practice of compassionate care.
---
About the Authors
Dr. Ronald Leaf is a licensed psychologist with over 45 years of experience in the field of autism. Dr. Leaf began his career working with Professor Ivar Lovaas, while receiving his undergraduate degree at University of California, Los Angeles (UCLA). Subsequently, he received his doctorate under the direction of Prof. Lovaas. During his years at UCLA, he served as Clinic Supervisor, Research Psychologist, Lecturer and Interim Director of the Young Autism Project. He was extensively involved in several research investigations, contributed to The Me Book, and is a co-author of The Me Book Videotapes. Dr. Leaf has consulted to families, schools, and agencies on a national and international basis. He is the Co-founder and Director of Autism Partnership, which offers comprehensive services for families with children and adolescents diagnosed with autism spectrum disorder (ASD). With offices in 10 countries, Ron and his team have developed the Autism Partnership Method, a progressive approach to implementing Applied Behavior Analysis (ABA) treatment. He is co-author of A Work in Progress, Time for School, It Has to Be Said, Crafting Connections, A Work in Progress Companion Series, Clinical Judgment and Autism Partnership Method: Social Skill Group. He has co-authored over 75 articles in research journals and presented over 100 times at professional conferences. Dr. Leaf is also the co-founder of the Autism Partnership Foundation, a non-profit dedicated to advancing professional standards and treatment of individuals with autism through research and training.
Jamison Dayharsh is a licensed Marriage and Family Therapist. Ms. Dayharsh began working with children with autism spectrum disorder in the late 1970s at UCLA on the Young Autism Project, where she served as a Senior Therapist, Research Assistant, and Teaching Assistant. She earned her master's degree in counseling psychology at Loyola Marymount University in 1983. Ms. Dayharsh is the Executive Director of Behavior Therapy and Learning Center. Her work has included parent training and consulting nationally and internationally to parents, schools and mental health agencies. Ms. Dayharsh is an author of A Work in Progress, a book on behavioral treatment and a contributor to research publications. Ms. Dayharsh's expertise includes counseling families of children with disabilities as well as providing psychotherapy to children and adolescents with autism spectrum disorders.
Jonathan Rafuse is a Board-Certified Behavior Analyst who graduated from UCLA in 1988 with a bachelor's degree in psychology. In 1991, he received his master's degree in clinical psychology from Antioch University. He furthered his graduate studies in 2017, completing coursework at the University of North Texas. During his master's coursework he was the Clinical Director for 1736 Family Crisis Center's Youth Shelter, overseeing the intense therapy and treatment provided to runaway and abused adolescents. In 1992, he began work at the May Institute running an off-campus group home serving students dramatically impacted with ASD. In 1995, he joined Autism Partnership, which offers comprehensive services for families with children and adolescents with autism spectrum disorder (ASD), and where he is a Clinical Director. He oversees the clinical and programmatic direction of therapy teams providing treatment to this highly individualized population. His responsibilities further include advanced training, mentoring, and consultation to ABA-service providers and teaching staff within school districts and private agencies across the country. He has presented both nationally and internationally at conferences on Applied Behavior Analysis, and consults throughout the United States, Australia and Asia. He wrote chapters in Crafting Connections and The Autism Partnership Method: Social Skills Groups and contributed to the video companion series to A Work in Progress.
John McEachin, a Licensed Psychologist, Licensed Behavior Analyst, and Progressive Behavior Analyst-Autism Professional, has been providing behavioral services and conducting research on autism for five decades. He received his graduate training under Professor Ivar Lovaas at UCLA on the Young Autism Project. During his 11 years at UCLA, Dr. McEachin served in various roles including Clinic Supervisor, Research and Teaching Assistant, and Instructor. His research has included the long-term follow-up study of young autistic children who received intensive behavioral treatment, which was published in 1993. In 1994 he joined with Ron Leaf in forming Autism Partnership, which they co-direct. In 1999 they published A Work in Progress, a widely used behavioral treatment manual and curriculum for children with ASD. Dr. McEachin has lectured throughout the world and co-authored several books and more than 100 research articles published in peer reviewed journals. Besides his clinical and research work, he is currently President of the Progressive Behavior Analyst Autism Council and an instructor in the Psychology department at Long Beach State University.
Justin Leaf, Ph.D., is the Executive Director for Autism Partnership Foundation and the Progressive Behavior Analyst Autism Council, the Associate Director for ABA Doctoral Studies at Endicott College, and the Executive Director for Contemporary Behavior Consultants. Dr. Leaf received his doctorate degree in Behavioral Psychology from the Department of Applied Behavioral Science at the University of Kansas. His research interests include Progressive ABA, improving behavioral intervention, social behavior, and methodologies to improve the lives of autistic/individuals diagnosed with ASD. He has over 140 publications in either peer reviewed journals, books, or book chapters and has presented at both national and international professional conferences and invited events. He has served on numerous editorial boards for behavior analytic and autism journals. Justin career has been dedicated to improving the field of Applied Behavior Analysis and lives of individuals with autism.