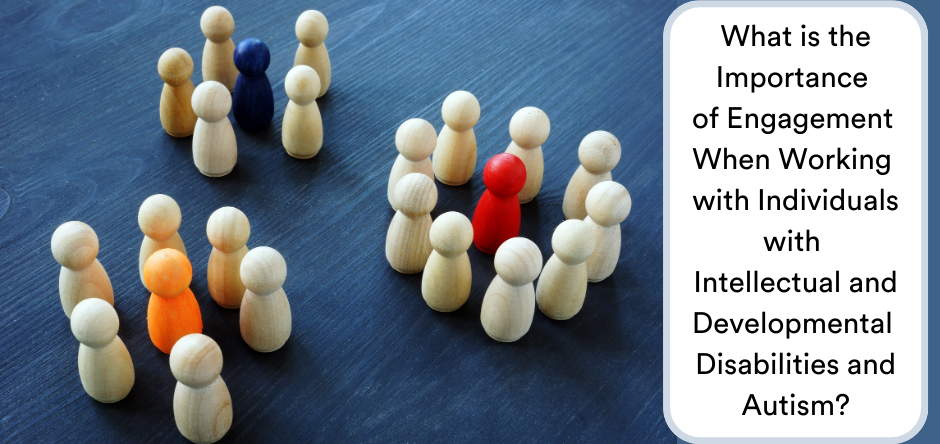 This month's ASAT feature comes to us from Dr. Karen Parenti, MS, PsyD CEO/Executive Director, and Heather Rothman, BS, LBS, Director of Day Services, Special Friends Foundation. To learn more about ASAT, please visit their website at www.asatonline.org. You can also sign up for ASAT's free newsletter, Science in Autism Treatment, and like them on Facebook!
I am the parent of an adult with autism, who will soon transition from a school program to adulthood. I am reading about engagement as an indicator of good programming. What does it mean and how can I tell if a program promotes it?
Answered by Karen Parenti, MS, PsyD, CEO/Executive Director, and Heather Rothman, BS, LBS, Director of Day Services, Special Friends Foundation
Transition into adult programming is an important, but often stressful, process for families and individuals to experience. Adult programming should be designed to build skills and to promote happiness. Essentially every parent wants their adult child to have a high quality of life, to be offered activities they find enjoyable, and to be self-determining. For this to happen, the individual needs to be fully engaged in the program. Family members, clinicians, behavior analysts, program specialists, administrators, and social workers who provide services to individuals with intellectual and developmental disabilities and autism (ID/A) need to remember the importance of active engagement when planning and implementing programs as well as when designing goals.
Imagine for a minute the perspective of an individual receiving services. In most cases, this means the individual has had a diagnosis of some kind since childhood. The current model for treatment in children may result in a consistent feeling of "other-ness," whether that looks like segregated classrooms, peer mentors, wraparound therapists, or specialized activities dependent on the label. From the perspective of the individual, this can look like endless task demands, shallow or contrived social interactions, decreased opportunities for genuine relationships, and severely limited access to the community. In addition, for a lot of the individuals served, the ability to protest "appropriately" is diminished, either because of communication barriers or skill deficits, or because they are not given opportunities to practice these skills. Empowering individuals to become architects of their experience and to express dissent and discomfort are crucial goals to ensure agency, assent, and quality of life. In addition, providing more choices can be part of a trauma-informed focus of care, and can ensure that individuals are served in a humane and compassionate manner (Rajaraman, 2021).
Although engagement as a clinical construct has yet to be deeply researched in applied behavior analysis (ABA), there has always been an ongoing interest in social validity, which is an emerging interest in the field (Morris et al, 2021). It should be noted that in the workforce, engagement has been defined for employees and became understood as a configuration of vigor, dedication, and absorption that motivates exceptional work performance (Leiter, 2019). Engagement, just like all metrics of success in the human services and special education fields, is personal and individualized for everyone. It is therefore important that engagement is individually assessed and monitored for everyone; from a parental or caregiver perspective, it is important to help the team understand how your family member expresses happiness, dissatisfaction, and protest. Teams may work to ensure high levels of satisfaction by ensuring that individuals attend the program regularly (or determine why there might be issues with attendance), and that preferences are identified in goals addressing the social, work, and living environments. It is imperative that teams ask themselves important questions such as is assent gained, routinely assessed, and honored? Moreover, does the individual seem happy while in the adult setting?
In recent years, the focus on engagement has altered the way in which quality programs are identified. Historically, there was a common focus on productivity and on compliance. While productivity remains relevant, engagement can become a main focus of intervention. In addition, the quality of interactions with individuals is also highly valued. Providers should focus on engaging the individual first by developing a positive relationship and pairing themselves with reinforcement. Individuals served, like all people, will always respond to genuine respect and regard, and this should be a foundation of service provision.
This value on engagement is consistent with heightened awareness in the field of ABA to ensure that all intervention is humane and compassionate, and that self-determinism is maximized for all individuals. In the context of adult intervention, such qualities can be seen in the extent to which engagement is observable. Some questions can be asked, and some behaviors associated with engagement can be observed.
Engagement is observable when a person is enthusiastically participating in their program. Choice has emerged as a necessary piece of engagement; individuals should be offered a range of meaningful activities from which to select, while still retaining the right to refuse. This is closely related to the Positive Approaches paradigm defined by Guy Legare (2002), who "encourages us to see clearly and honestly the good reasons and adaptive qualities of even the most troubling behavior, no matter whose behavior it is." Provider agency staff and special education school personnel who excel at this skill set seem to be the ones to whom an individual is a person first, and these professionals never see an individual as a "case" or "set of behaviors."
Although clinicians have considerable access to different types of preference assessments, as well as training on how to use them, it's valuable to keep in mind all the factors that influence the efficacy of reinforcers with regards to engagement. For example, an individual may be more likely to be engaged in an activity in which they are participating with others, in a novel location. Engagement is a reinforcer unto itself but requires a deep knowledge of the individual and their preferences as well as focusing on the relationship between the individual and the staff member. As with any other treatment focus, engagement depends heavily on a positive, nurturing, and entertaining relationship between two people.
Engagement has to be individualized so that it can be maximized. It is observable, able to be defined and measured, and important to consider in placement, goal development, and in the ongoing assessment of progress. Programs can follow some general guidelines to increase the likelihood of enthusiastic participation, build active engagement, and foster self-determinism. These concepts include but are not limited to:
Demonstrating unconditional positive regard – Staff and clinicians need to ensure that the individual they are working with is always treated with respect and dignity. Building rapport with each individual and communicating with those individuals regularly is essential to creating a compassionate, humane treatment environment.
Attain Assent – Assent is emphasized in the Ethics Code (BACB, 2022), and should be secured whenever possible. Recent research indicates that this is an area that can improve and can also be done with individuals who are non-vocal (Morris, 2021). The team should ensure that the individual is continually involved in making choices regarding their daily activities. Attain assent for activities, and regularly check in about whether the individual is still willing to do the tasks. Honor withdrawal of assent.
Solicit and accept feedback – Being receptive to feedback means allowing individuals to critique and course-correct staff behavior. Although feedback can be directly solicited, individuals provide feedback in lots of indirect ways as well. It is important to ensure there is reciprocal shaping of interactions between staff and individuals. Being open to changing the approach, based on cues from the individual, allows for the individuals served to have a measure of control over their own treatment, which increases the likelihood they will be enthusiastic participants, and therefore engaged.
Prioritize needs – Staff and clinicians need to ensure that the individual they are working with has their basic needs always met.
Respect all forms of communication – Staff and clinicians need to respect all verbal and nonverbal communication from that individual. These subtleties can be missed if the staff is not paying close enough attention. It's important to remember that challenging behaviors are often an important form of communication.
Create a supportive environment – An environment where the individual is supported and connected is one where they will be actively engaged, will thrive, will learn, and will master skills and increase competencies. Individuals can get discouraged easily and can become disengaged. In these situations, a little support or assistance can go a long way. Other considerations for a supportive environment could include instruction and activities in novel locations, with persons that are preferred by the individual, and by attending to the individual's preferences to the maximum extent possible.
Create Novelty – As stated earlier, novelty also helps increase engagement. When educators introduce something new, they provide opportunities for learning skills with a new item. In many cases, exploring a new item (or scenario, song, story, etc.) creates new opportunities for thinking, for understanding how things work, or connecting existing concepts in a new way. Novelty can also allow staff to engage the individual in a new way.
Be willing to share control of the instructional context – Clinicians or staff can ensure that choices are presented as often as possible. There is always a choice to be offered. For example, instead of saying "now it's time to get dressed", a staff can say, "Would you rather put on your shirt or your socks first?" It's also important to find a way to say "Yes" to a request as often as possible. If an individual is asking for something that is unavailable, instead of saying "No," staff can offer a different time when the item/activity is available. It is important to be as specific as possible.
In summary, if a provider, agency, or special education school wants to increase active engagement while being genuinely helpful, staff and clinicians should partner with the individuals and their team members in selecting goals, developing instructional procedures, and identifying meaningful outcomes. This is the essence of social validity and is essential to compassionate care.
References
Behavior Analyst Certification Board. (2020). Ethics code for behavior analysts. https://bacb.com/wp-content/ethics-code-for-behavior-analysts
Legare, G. (2002). Positive approaches as a paradigm. In Positive approaches: Identifying mental illness in people with developmental disabilities, (2nd Ed.) OMR Statewide Training and Technical Assistance Initiative.
Leiter, M. The psychology of work engagement. Oxford Research Encyclopedia of Psychology. Retrieved 20 Oct. 2022, from https://oxfordre.com/psychology/view/10.1093/acrefore/9780190236557.001.0001/acrefore-9780190236557-e-36.
Morris, C., Detrick, J. J., & Peterson, S. M. (2021). Participant assent in behavior analytic research: Considerations for participants with autism and developmental disabilities. Journal of Applied Behavior Analysis, 54(4), 1300-1316. doi: 10.1002/jaba.859.
Rajaraman, A., Austin, J., Gover, H., Cammilleri, A., Donnelly, D., & Hanley, G. (2021). Toward trauma‐informed applications of behavior analysis. Journal of Applied Behavior Analysis, 55(1), 40-61. 10.1002/jaba.881
Schramm, R. (2011). Motivation and reinforcement: Turning the tables on autism. Pro-ABA.
Tennant K., Long A., & Toney-Butler, T. J. (2022, May 8). Active Listening. StatPearls Publishing. https://www.ncbi.nlm.nih.gov/books/NBK442015.
Citation for this article:
Parenti, K., & Rothman, H. (2023). What is the importance of engagement when working with individuals with intellectual and developmental disabilities and autism? Science in Autism Treatment, 20(01).
About the Authors
Dr. Karen Parenti works as the CEO/Executive Director of Special Friends Foundation. She has extensive experience in ABA and in developing and overseeing group homes, day services, and rehabilitative programs for individuals with intellectual and developmental disabilities and autism. She also serves as the treasurer of the MAX association's board where she continues to advocate for the needs of the individuals she serves. Karen earned her Bachelor's degree in psychology from York College of PA, her Master's Degree in Human Services Administration from Springfield College in Wilmington, DE and her Doctorate Degree in Clinical Psychology from Immaculata University.
Heather Rothman works as the Director of Day Services for the Special Friends Foundation. She has worked with individuals with disabilities in a variety of settings and roles for over twenty years. Heather is committed to helping individuals with disabilities and Autism access choices, connect with their communities, and design the life they want. She is a Licensed Behavior Specialist with extensive experience with behavior support services in early intervention, school-aged, and adult populations. She designed and built a school-to-work transition program that won an international award for Variety-The Children's Charity. She has taught at Penn State, developed trainings for the Public Health Management Corporation, and worked with Merrill Lynch on accessibility and community inclusion programs. She is passionate about universal accessibility and designing programs that create strong communities. Heather has her Bachelors of Arts in Organizational Management from Ashford University and a Master's Degree in Applied Behavior Analysis from Saint Joseph's University.
This article was reposted with permission from ASAT from https://asatonline.org/research-treatment/clinical-corner/engagement/