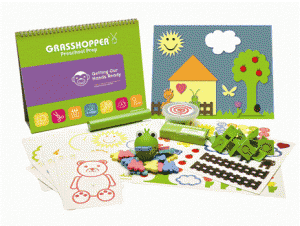 This kit prepares children for school by providing active, goal-directed play. Getting Our Hands Ready contains 10 playful games to establish good habits for learning handwriting and promoting proper grasp of pencils. Each item is specifically developed to improve fine motor coordination and the guidebook contains a series of multisensory activities to build the small muscles in hands and fingers. The kit comes with dough stampers, mini crayons, Mr. Crunch and other exclusive pieces.
This week, save 15% on the Getting Our Hands Ready Kit. We're even going to extend the discount to the other two kits in the series: Snip, Glue & Grow Kit as well as the double kit Following Directions & ABC's and Simple Shapes Kit. To redeem your savings on any of these three kits, enter the Promo Code BLOGHWGK at checkout.
*Offer expires on February 21, 2012 at 11:59 pm EST. Not compatible with any other offer. Be sure there are no spaces after the Promo Code when you enter it at checkout.