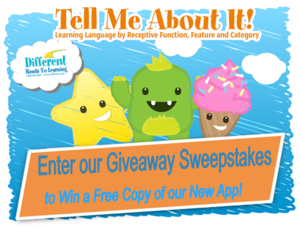 Different Roads to Learning is thrilled to offer you the chance to win a free copy of our latest iPhone/iPad App for teaching language to students with Autism or speech and language delays: Tell Me About It! Learning Language by Receptive Function, Feature & Category. This special offer ends on February 17, 2012 at 11:59 PM EST.
 Tell Me About It! teaches the label, category, function, and features of more than 235 language targets over 6 levels of incremental difficulty with over 1000 unique testable attributes. The presentation of each language target conforms to an Applied Behavior Analysis (ABA) discrete trial program, with reinforcement provided by a token economy system. Once the user collects the given number of tokens, they are rewarded with an adorable 5-10 second animation clip of the token character.
 Tell Me About It! provides a self-contained discrete trial program that error corrects and provides direct reinforcement to the student while collecting and synthesizing data for up to 10 students. There is a Student Report Card in the format of a data sheet that displays data for each student, with an option to email the results.
For complete details on our sweepstakes and to enter, click here! 
Currently, our new app Tell Me About It!is being sold in the iTunes store for $9.99. You have the chance to win it for free by entering our Sweepstakes!
 To learn more about Tell Me About It!, visit the store in iTunes by clicking here!