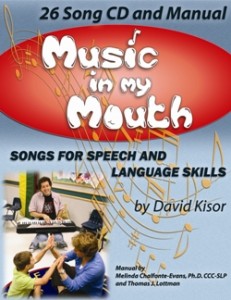 Music In My Mouth presents 26 original songs along with a user's manual that have been designed by speech-language pathologists, early childhood educators, and families to teach and practice the skills for developing communication skills. Competence in communication is essential for a child's personal, social, and academic success. The songs target sound production, language skills, fluency, social communication and play skills. The 64-page manual provides tips on how to integrate the songs in individual therapy sessions, group speech therapy, in the classroom, at home, or even in the car.
This week, save 15% on Music In My Mouth by entering the Promo Code BLOGMIM2 at checkout.
*Offer expires on February 14, 2012 at 11:59 pm EST. Not compatible with any other offer. Be sure there are no spaces after the Promo Code when you enter it at checkout.