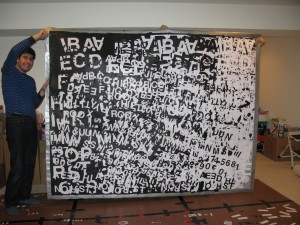 A friend of ours recently introduced us to the art of Alex Masket and we were so blown away by his talent and process, we wanted to share it with all of you. Alex is 24 years old and has severe autism, which greatly inhibits his ability to communicate verbally. According to his website, Alex is a "completely self-taught artist whose work is focused on the interaction of color and form. Utilizing various media in unorthodox ways to realize his vision, Alex has a wholly individualistic process, creating pieces that are intricately composed and beautifully balanced. Alex throws his whole body into his creations, using a highly kinetic process akin to drumming."
The United Nations Postal Administration is issuing stamps in recognition of World Autism Day on April 2, 2012. The goal is for the stamps, and the artists who designed them, to raise awareness about what is now a global cause. has chosen Alex's Lego® composition "Kinetic Blue" as one of eight images in its Autism Awareness commemorative stamp series. You can read more about all of the stamps and the artists in the UN Press release here.
In addition, Dennis Connors created a must-see award-winning short documentary about Alex and his work titled Breaking Boundaries: the Art of Alex Masket. You can see the trailer below and the full film on Alex's website at alexmasket.com.
We hope you enjoy and are as moved by the art of Alex as we are.