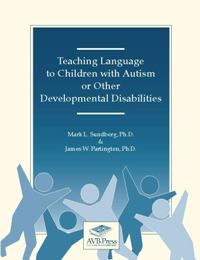 Teaching Language to Children with Autism or Other Developmental Disabilities is the foundation for anyone looking to implement a Verbal Behavior program. Based on B.F. Skinners behavioral analysis of language, this manual presents a concrete language assessment and intervention program. Relying on the notion of errorless teaching, the authors explain the theory and methodology behind the Verbal Behavior approach to teaching children language.
The book provides information on preparation for language intervention, including a brief language assessment with interpretive guide in order to determine the best place to start intervention according to an individual child's needs. There is also information on augmentative communication and how to assess it's importance and necessity, as well as the form it should take. It also addresses the development of initial communication skills for nonverbal children and teaching more advanced language and social skills.
This week only, save 15% on Teaching Language to Children with Autism and Other Developmental Delays by entering the Promo Code BLOGTLA at checkout.
*Offer expires on March 13, 2012 at 11:59 pm EST. Not compatible with any other offer. Be sure there are no spaces after the Promo Code when you enter it at checkout.