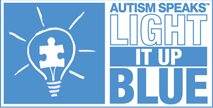 The Centers for Disease Control (CDC) has just issued a new report on the prevalence of autism in the United States. The estimate now is that 1 in every 88 American children is diagnosed with autism (1 in 54 boys, 1 in 252 girls). That's up from the 1 in 110 number just a few years ago.
The CDC's alarming new statistics reveal that there has been a 78% increase of autism diagnosis cases throughout the US, over a 6 year period (2002-2008), which can be considered a cautionary reminder to all of us how serious and vast this issue has become.
With Autism Awareness Month approaching, Different Roads to Learning is pledging to participate in Autism Speak's Light It Up Blue campaign on Monday, April 2 to help raise public awareness. We hope you'll join us. Now more than ever, we need to be sure that proper attention, research, education, intervention and funding is focused on the children and families living with autism.
During the month of April, Different Roads to Learning will be hosting a wide variety of events including sales, giveaways, an Autism Awareness Ribbon Project, and more. Be sure to stay tuned to our Blog, Facebook and Twitter pages for up to date information on how we'll be supporting our community and raising awareness this April.
If you would like to learn more about the recent statistics, you can visit:
https://www.nytimes.com/2012/03/30/health/rate-of-autism-diagnoses-has-climbed-study-finds.html?hp
https://www.autismspeaks.org/science/science-news/autism-prevalence-rises-1-88
Autism Speaks' 2012 Press Release on CDC Numbers.