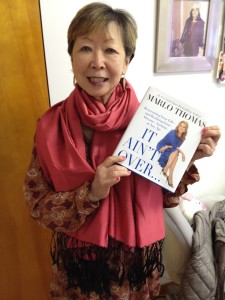 We are beyond excited to announce that our wonderful president and founder, Julie Azuma, is featured in the new Marlo Thomas book It Ain't Over . . . Till It's Over: Reinventing Your Life–and Realizing Your Dreams-Anytime, at Any Age.

It Ain't Over . . . Till It's Over introduces us to sixty amazing women who are proving that it's never too late to live out a dream—to launch a business, travel the world, get a PhD, indulge a creative impulse, make a family recipe famous, escape danger, find love, or fill a void in life with a challenging new experience. Julie's story of leaving her career in the fashion industry to start Different Roads to Learning after her daughter's autism diagnosis is featured and will leave readers feeling uplifted and inspired.
Brimming with anecdotes that will inspire smiles, tears, and—most of all—hope, It Ain't Over speaks to women of all ages with an empowering message: The best is yet to come! Congratulations to Julie on the well deserved recognition for her incredible  and inspiring efforts!