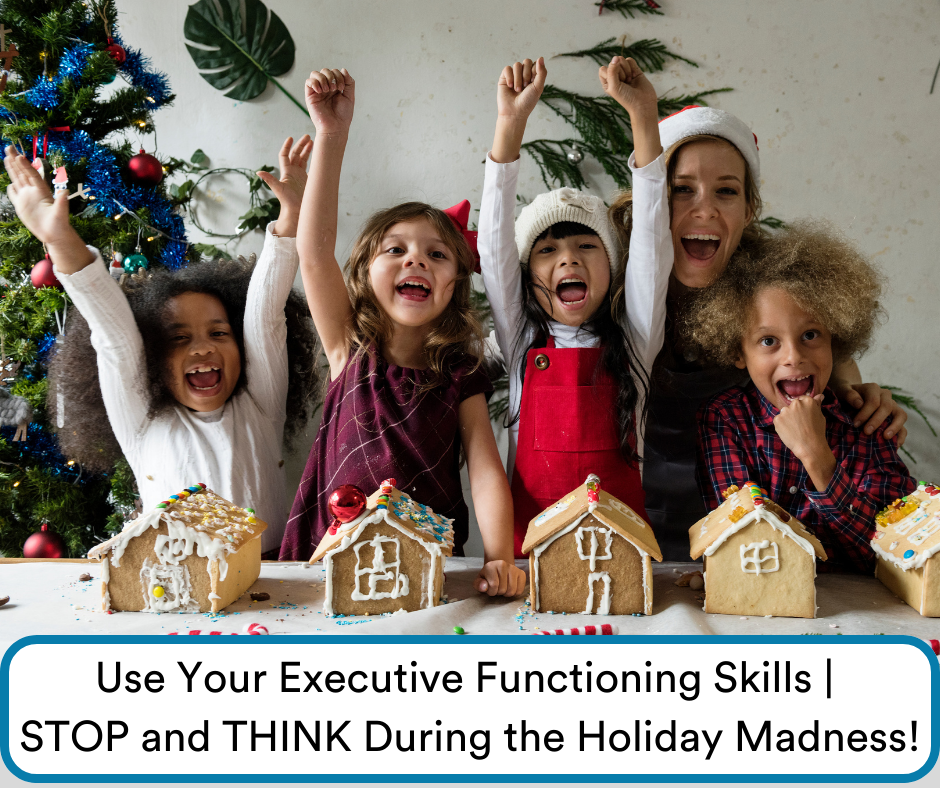 This week's post comes to us from Stephanny Freeman, PhD and Kristen Hayashida, MEd, BCBA, our partners on the Play Idea Cards app. Play Idea Cards is a full curriculum on teaching play – right in the palm of your hand! Check it out on the Apple App Store! 
Everyone just loves the holidays!
Lots of emotions!  Excitement, joy, love, anxiety, anticipation, stress, and relaxation…
Lots of activities! Giving gifts, eating holiday food, traveling to see family and friends…
Lots of people! Big groups, little groups, friends, family, loved-ones, and strangers too!
But the holidays are also a FANASTIC time to help your children continue their COGnitive development! 
You can target executive functioning (EF) during these special activities, which is not only a great opportunity to foster skills, but also helps you as a caregiver have a successful and joyous holiday season! Here are some of our tips to build EF during the holidays:
Consider EF Skills when Choosing Gifts for Your Children
Rather than impulsively buying the newest screen toys… plan, problem solve, and control those holiday emotions!! Use your EF skills to buy enriching toys and plan fabulous activities! Deck the Halls with Cogs of EF – fa la la la la, la la la la!
Working Memory – look for memory-based board games and the copying pattern games.
Planning – consider activities where children can make something (e.g., manipulatives such as blocks or magnetic tiles, arts and crafts, dough).
Cognitive Flexibility – give a track set and challenge the child to vary the path or move a vehicle through obstacles. You may also consider any "flexible" toys (e.g., magnetic sets, wax sticks, slime) to talk about how you can change the shape of the object.
Task Initiation – outdoor equipment would be great for this skill (think: balls, hoops, chalk, ropes, cones/domes), or cleaning and gardening supplies.
Emotional Control and Inhibition – use a gift that challenges your child to inhibit impulsive responses and regulate through frustration/excitement. We think of dress up clothes (for peer play, turn taking), advent calendars, surprise toys, bubbles, foam shooters, noisy electronic infant toys.
Organization – find toys that contain lots of pieces and can be sorted and used by category such as figures, furniture, vehicles, houses/garages/buildings with all the associated pieces, doctors/vet kits, cooking/kitchen/ice-cream stand/restaurant.
Problem Solving – STEM kits, puzzles, brain teasers all naturally present the child with problems to solve, but you can use these activities as opportunities to solve problems that may naturally occur (e.g., if chemicals don't react, liquid spills from the beaker).
Embed EF practice in your holiday preparation!
Everyone is so busy making their lists and checking in twice! Involve your child during your holiday preparations to help build EF skills:
Shopping! Make a store plan by the layout, develop a list, check it off as you go, make sure to consider other things if something is not available, don't buy things not on the list!
Baking and Cooking! Talk about the order, what's in a recipe, have them retrieve the items (more than one at a time), try to remember the measurements, plan out the decorations (draw first, gather the colors, etc.)
Decorating the house/tree! Sort decorations by room, place items on the tree by tree zone, and compromise and delegate roles and responsibilities. Include how to be careful with delicate objects, how things are meaningful to others, and fix broken items.
Wrapping and giving presents! Notice how people respond to gifts given. Work on fixing ripped paper/ribbons that don't cooperate, and glitter that gets everywhere. Be sure to label and organize the gifts. Solving any problems related to gift giving (oops, we forgot cousin Milt!)
Family Gatherings! Organizing some family activity, planning where people are going to sit, getting along with family members and discussing how to behave in other people's homes.
From our family here at KidsConnect to yours… Happy Holidays to the wonderful, thoughtful, executive functioning-using, caregivers! 
About the Authors
Dr. Stephanny Freeman is a clinical professor at UCLA, a licensed clinical psychologist, and Co-Directs the Early Childhood Partial Hospitalization Program (ECPHP).  For 20 years, she has educated children with ASD and other exceptionalities as a teacher, studied interventions for social emotional development, and designed curriculum and behavior plans in school and clinic settings.
Kristen Hayashida is a Board Certified Behavior Analyst at the UCLA Early Childhood Partial Hospitalization Program (ECPHP).  For the last 10 years she has served as a therapist, researcher and educator of children and families living with autism spectrum disorder through the treatment of problem behavior.