Everyone knows Julie, the president extraordinaire of Different Roads to Learning! For more than 16 years, she's been sourcing new product, providing guidance and support on the phone, and helping families and organizations in the autism community. For those of you who haven't had the privilege of talking to Julie, she's an amazing storyteller. Every Monday morning, she has all of us in the office bent over with laughter or tears as she regales us with the stories of her weekned. As many of you know, Julie's daughter Miranda has autism. The adventures that Julie and her family go through, the incredible highs and lows, are what inspire all of us every day. We've been encouraging Julie to share some of her stories as they're what link us all together. So, here's last weekend's adventure….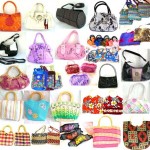 Our daughter, Miranda, loves handbags.  She has a ton of them.  Some boys on the spectrum love trains and cars, she loves handbags and hairbands. We have actually had to build storage for her handbag collection.  I recently had to hide my handbags in the office closet to keep them out of her collection. 
 If we go to Kohl's or to Target, she knows she gets another handbag.  She goes directly to that department. No matter how hard we try to say no, she always finds a way to get that handbag.  We go in for other things but come out with a handbag.  
The last time we went to Kohl's, she needed a winter coat. Before we left, over and over again, I said "What are we going to get at Kohl's?" and she said "handbag".  I said "No, coat."  She replied "coat".   "What are we going to get, Miranda?"…the correct response came: "Coat."  And we did that routine over and over again. Once in a while she would mutter "handbag" but I was on point!  "What are we going to get?"  "Coat!"
 Just before we went into the store, I reminded her of the other issue.  No screaming!
When we get inside, "no screaming!"
 We walked into the front door of Kohl's and Miranda is so excited and delighted to get there, she lets out a loud shriek of happiness!  The entire store goes quiet….and then a voice from Check Out #2 says "NO HANDBAGS for you today!"