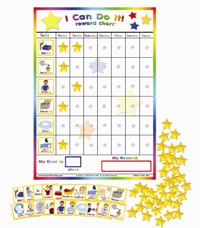 It can be a tall task to structure children's days and reinforce good habits and behaviors. Daily chores such as getting dressed, brushing teeth, making the bed, and getting out the door on time can lead to a bit more excitement than desired. Token Boards and Reward Charts are a great way of visually structuring the tasks at hand and providing tangible reinforcement for a job well done. There's the I Can Do It! Reward chart which covers all sorts of daily activities such as Get Dressed, Set the Table, and Say Please and Thank You. The I Can Do It! School Chart specifically organizes the early morning rush while teaching children independent, daily living skills. We even have charts specifically for Potty Training and Brushing Teeth.
This week only, save 15% on all of our Token Boards and Reinforcers by entering the Promo Code BLOGTBR2 at checkout.
*Offer expires on January 17, 2012 at 11:59 pm EST. Not compatible with any other offer. Be sure there are no spaces after the Promo Code when you enter it at checkout.