We can't tell you how excited we are to introduce a series of guest posts by Autism Partnership. Really, they don't need any introduction: Ron Leaf, John McEachin, and Mitchell Taubman have been working in ABA since the 1970's when they were all working with Lovaas on the seminal UCLA Young Autism Project. They've dedicated their careers to providing services, training and direct intervention to individuals with ASD. It's a rare to treat to get insight and information from such distinguished professionals.
In this series, they'll offer up strategies and tips on Learning How to Learn, "Cool" vs. "Not Cool", Teaching Interactions, Reinforcement Development, and Individualized Token Economy Systems, as well as results from a recent study that shows promising treatment results in children with ASD. But first, an introduction in their own words: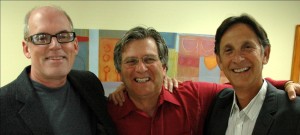 The three of us met over 35 years ago on the UCLA Young Autism Project. Our careers have been devoted to helping children, adolescents and adults develop the skills and behaviors so that they can enjoy the highest quality of life. Although Applied Behavior Analysis remains the foundation of our approach the application has evolved. This evolution has been due to a number of factors including working with a range of ages (toddlers, children, adolescents and adults) working in a variety of settings (clinics, homes, schools, private practice, residential and vocational settings) and not only working with Autism Spectrum Disorders but a large variety of populations (ADHD, Mental Retardation, Juvenile Delinquency, Prader Willi Syndrome, Schizophrenia as well as adolescents and adults being challenged by depression, anxiety and marital conflicts). Our journey has been challenging, exhilarating and humbling.
When we wrote our first book, Work in Progress, we believed it was our last book. We had believed we would have nothing more to contribute! However, years later we were frustrated that ABA was not being used to help students in schools so we wrote It's Time for School. But the insanity and misinformation regarding ASD and ABA compelled us to write It Has to Be Said! It provided through grumpy men a chance to enlighten the world according to our belief system! We weren't quite done! Recently, we recognized that lack of emphasis on teaching social skills so we wrote Crafting Connections.
We have also been passionate of conducting research so as to objectively validate our approach. We have conducted numerous research studies investigating various techniques and procedures. Through these efforts hopefully we have contributed to the field. But we know the research has made us better clinicians. It has also provided evidence as to the efficacy of ABA. Recently we published a 10 year outcome study allowing us to evaluate our approach.
In this Blog we would like to share a summary of our most recent programs and findings. We hope that you will find them interesting and perhaps even helpful.
Cheers,
John, Mitch & Ron