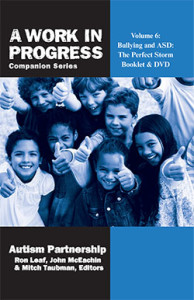 Bullying & ASD: The Perfect Storm – the brand new booklet and DVD from Autism Partnership – comes at a most important time. Recent school bullying and cyberbullying statistics show that:
1 out of 4 kids are bullied
77% of students are bullied either mentally, verbally or physically
Cyberbullying statistics are rapidly approaching similar numbers, with 43% experiencing cyberbullying
Of the 77% of students that said they had been bullied, 14% of those who were bullied said they experienced severe (bad) reactions to the abuse
Bullying is a real and pressing issue in our schools and online, and children with autism spectrum disorder are especially at risk. In the most recent volume of the Work in Progress Companion Series, Doctors Leaf, McEachin and Taubman explore not only the reasons that children with ASD are targets for bullying, but more importantly, they offer realistic and attainable strategies for kids on the spectrum.  
Several traditional methods of dealing with bullies are explored in this booklet and DVD, including avoidance, informing an authority figure, and fighting back.  In addition, there are strategies for educating and preparing the victims so that students with ASD can better combat bullying.  The included DVD features over an hour and 40 minutes of footage including advice from experts, one-on-one interviews with students, and real classroom brainstorming sessions where students with autism spectrum disorder are shown:
The difference between teasing and bullying
How to avoid the behaviors invite bullying, including determining the important difference between "cool" and "uncool"
When and when not to listen to peers
How to react to a bully
This week only, save 15% on the important new booklet and DVD – Bullying & ASD: The Perfect Storm –  by entering the promo code BLOGBASD2 at checkout.
*Offer expires on April 30, 2013 at 11:59 pm EST. Not compatible with any other offer. Be sure there are no spaces after the Promo Code when you enter it at checkout.