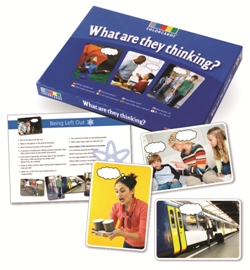 Inferring meaning from images and text can be a real challenge for many students. What Are They Thinking? flashcards and worksheets help students develop empathy as they learn to recognize and understand emotions. This is a wonderful resource for initiating conversation and storytelling. Using this set, you can help students explore the relationship between thoughts and feelings as well as teach them to recognize how behavior affects others. The set comes with 30 large photo cards, an instruction booklet and a CD that contains reproducible worksheets for each student.
This week only, save 15% on the What Are They Thinking? flashcards by entering the Promo Code BLOGWATT7 at checkout.
*Offer expires on July 24, 2012 at 11:59 pm EST. Not compatible with any other offer. Be sure there are no spaces after the Promo Code when you enter it at checkout.