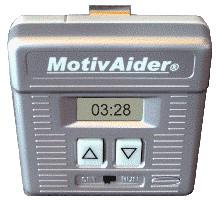 It's the best tool available for people of all ages to stay focused and change behavior and habits quickly, easily and privately. The MotivAider is one of our bestsellers for behavior modification of all sorts. The MotivAider is a simple electronic device that vibrates at timed intervals to provide an individual with a private prompt to engage in a specific behavior. You can program it to vibrate on a variable or fixed schedule at different durations and intensity. There's a wonderful article and review on the uses of the MotivAider by our friend Jenn over at Toys are Tools that explores how some students and teachers are using the MotivAider in their classrooms.
This week only, you can save 15% on the MotivAider by entering the Promo Code BLOGMTVT at checkout. If you've always wondered just what the MotivAider can accomplish, here's your chance to try it at a great discount.
*Offer expires on July 17, 2012 at 11:59 pm EST. Not compatible with any other offer. Be sure there are no spaces after the Promo Code when you enter it at checkout.