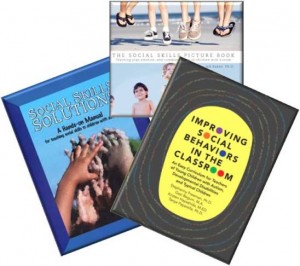 With school days rapidly drawing near, many of our kids may be challenged by the social situations that the classroom presents. To help your students and children prepare for what lies ahead, our pick this week is our entire category of Social and Play Skills Books. You'll find everything from structured curriculum (Improving Social Behaviors) and Assessment (Social Skills Solutions) to books that visually show various social situations and how to handle them (The Social Skills Picture Book).
Using a combination of these books can help students understand and learn the intricacies of social interactions at school including making friends, turn-taking, cooperation, dealing with emotions and much, much more. We wish you all a productive, fun and successful school year!
This week, all of the books in our Social & Play Skills category are being offered at a 15% discount. Simply enter the Promo Code BLOGSSBTat checkout to redeem your savings.
*Offer expires on August 28, 2012 at 11:59 pm EST. Not compatible with any other offer. Be sure there are no spaces after the Promo Code when you enter it at checkout.