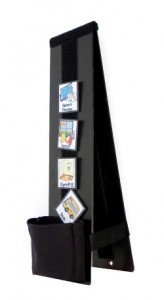 This week's pick is the versatile Multipurpose Picture Schedule. All classrooms – especially those with young learners – incorporate various visual schedules to structure an activity or the day's events. This communication board can be self-standing, used on a table top or hung on a wall. There are 2″ of loop-side fabric on both sides to make all sides usable. You can prearrange your symbols and store extras on the back to ease quick transitions. The board measures 4″ x 33″ when opened.  (*Note: the picture symbols are not included).
This week only, save 15% on the Multipurpose Picture Schedule by entering the Promo Code BLOGMPP7 at checkout.
*Offer expires on October 30, 2012 at 11:59 pm EST. Not compatible with any other offer. Be sure there are no spaces after the Promo Code when you enter it at checkout.