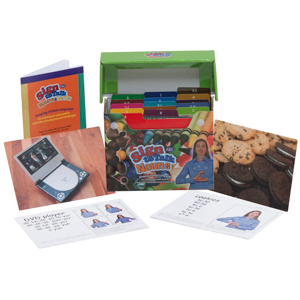 The K&K Sign to Talk Nouns and Sign to Talk Verbs are a trusted resource designed to shape verbal language specifically for individuals with autism and other developmental challenges. It's back to school time and we're dropping the price of the cards by $20! The Sign to Talk Nouns are now $139 and the Verbs are $119!
The front of each card has a large 5″x7″, full-color, glossy photo of the target item. The reverse side contains a photo of the ASL sign, a written description of the hand shapes, and a series of Kaufman Speech to Language "word shells," which are highly effective for shaping intelligible articulation.
The Sign to Talk Nouns include a variety of everyday objects (nouns) that children frequently request and that double as excellent reinforcers. The Kit contains 150 noun cards and the accompanying 40-page manual fully explains the approach. The Sign to Talk Verbs include 80 everyday actions that children frequently request  as well as the accompanying 40-page manual.

Take advantage of the new low price on these excellent teaching tools while you can!