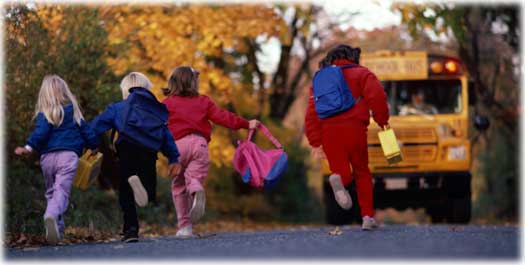 Summer is winding down and for most it's time to get back to a routine. For many of our students and children that means getting a handle on a busy new schedule of self-care, school, therapy sessions, extra-curricular activities, play dates and special occasions. A visual schedule or an activity schedule can help pull all of the parts of a hectic day together for a child and increase independence, build organizational skills as well as improve comprehension skills. A visual schedule provides clear expectations, utilizes a child's visual learning strengths, can reduce anxiety or difficulty with transitions, and can increase flexibility.
This week, we're offering a 15% discount on some of our favorite products to help you get a visual schedule up and running. Just enter the Promo Code BLOGVS13 to redeem your savings and get organized.

Clear Schedule with Token Strip: This is an option that is easy and portable for those who want to customize and create their own schedule pictures. There is a token economy that runs alongside which is great for learners who require a thick schedule of reinforcement and need to earn a token for each step of the schedule and can be used for any age.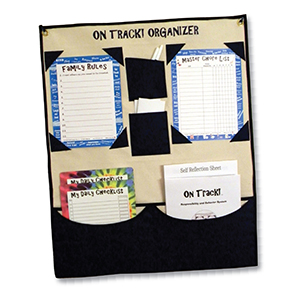 On Track! Responsibility & Behavior System: This product is a great tool for children 8 and up. It is a wonderful resource for keeping the whole family on track across multiple daily routines and behavioral objectives. The detailed instructional guide walks you through the implementation and execution of the system is an added bonus.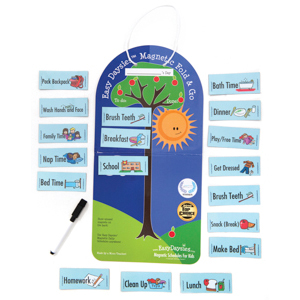 EasyDaysies Magnetic Schedule for Kids: The simplicity of this is fantastic. The Magnetic Fold & Go schedule board travels with you easily and can adhere directly to any metal surface. The imagery is very clear and easy to understand and the To Do and Done Columns are intuitive and easy for even the youngest child to use. The starter kit includes 18 magnets that cover all the basics in your learner's daily routine but as proficiency increases there are supplemental packs are available to include more specific magnets covering Chores & Special Times, Family & Extracurricular Activities, and Get Dressed & Bathroom routines.
*This offer expires on September 24, 2013 at 11:59 pm EST. Not compatible with any other offer. Be sure there are no spaces in the promo code at check out!