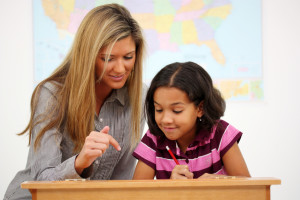 Teaching learners with autism or other developmental delays can frequently be a complicated, stress-inducing labor of love. This is why I especially appreciate that one of the most useful strategies in working with learners of all ages is just three simple words: "Do it again."
The basic idea behind "Do it again," (Or "Try it again," or "Do it better") is that you are calmly stating that the learner must try an action again and do it better than previously done. You are not yelling, you're voice isn't even raised. And you are communicating to the learner that you know he/she is capable of doing more.
In some cases, working with learners who may require more invasive prompts such as physical prompts, it may be necessary to have two adults for this to work best. Below are a few example scenarios of how this might work.
Scenario One
Teacher asks student to hand a paper to her.
Learner drops paper on desk next to her hand.
Teacher: (Hands paper back to student.) Try it again. (Holds hand out for paper.)
Learner places paper in hand.
Scenario Two
Non-verbal learner wants to get attention from teacher. Grabs teacher's shirt and pulls.
Second adult (possibly another teacher or paraprofessional): Try it again. (Provides hand-over-hand assistance for giving a light tap to get teacher attention.)
Teacher: What do you need, _____?
Scenario Three
Teacher: Try it again. (calm, even tone)
Scenario Four
Learner is running across the room to get a toy.
Teacher: Go back. Try again. (The learner must return to the point in which he/she began to run.)
Learner walks across the room.
Behaviors to use this with:
recurring behaviors in which you know the student knows the rule, or you have repeated the rule many times
behaviors that are maintained by attention or desiring "shock value" such as cursing, insulting, or using rude language
increasing behaviors related to polite speech
decreasing behaviors that could cause injury (such as running in the classroom or being rough with peers or adults)
Why it works:
you are demonstrating a calm sense of control
you are demonstrating that you have and enforce high expectations
you are willing to spend the time to have your learner complete requests correctly
the learner is still receiving attention, but it is low-quality attention. You should differentiate the quality of the attention you provide based on the quality of the learner's behavior.
the learner still gets what he/she desires, but only after behaving in the desired manner. It is important that the learner still receives the tangible, attention, or escape instead of being punished for finally engaging in the desired behavior, EVEN IF the learner has to "do it again" multiple times. Over time, the learner will engage in the appropriate behavior more quickly because it increases the speed with which they receive the desired item or activity.