Learning that your child has autism is incredibly overwhelming. You're under intense stress to make the best decisions possible for your child, and to do so quickly. Add to the fact that autism is a popular topic in the news and social media, so tips and quick fixes frequently show up in headlines and news feeds. Autism is considered to be a fad treatment magnet, and while some of the fad treatments are ineffective, others are flat out dangerous. How is it possible to parse through all this to find reliable information? Here are a few tips to help you out:
Avoid products or organizations that promise a cure or rapid progress. All children respond to intervention at different rates. There is no known cure for autism, and there is no "quick fix" either.
Avoid products or organizations that use scare tactics. Anyone who is trying to scare you into using their products or services does not have your best interest at heart. Instilling fear in parents can make it more difficult to make knowledgeable choices and increase the pressure already felt. Scare tactics are generally used to encourage you to make a snap decision, often at a high monetary cost.
Avoid products or organizations that utilize subjective testimonials instead of data-driven science to measure progress. Testimonials may be compelling, but without scientific research it's impossible to know what actually caused progress. Research should be completed that illustrates an intervention or treatment is directly linked to progress.
Avoid products or organizations that advertise easy solutions which don't require a professional's help. Many of the behaviors presented with autism are incredibly challenging. Approaching those issues without the assistance of a trained professional can be detrimental or potentially dangerous for your child, especially when your child exhibits self-injurious behaviors.
Avoid products or organizations that do not measure progress for the intervention being used. It should be very clear what the expected outcome of a product or treatment is, as well as how it will be measured. Relying on informal reports from either parents and/or teachers does not supply valid information about the effectiveness of the product or treatment.
Be wary of treatments that require "faith" to work. If a treatment is not working, it is not because you didn't believe in it, it's because something in the treatment needs to be changed to meet the unique needs of your child.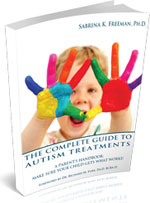 So where can you find valid information? The Association for Science in Autism Treatment is a reliable source for up-to-date information about the many types of treatment available for individuals with autism. The website is packed with useful information, but you may find "Questions to Ask Marketers of Autism Interventions" especially helpful as you make decisions about your child's treatment. You may also want to pick up Sabrina Freeman's book, The Complete Guide to Autism Treatments: A Parent's Handbook: Make Sure Your Child Gets What Works!
WRITTEN BY SAM BLANCO, MSED, BCBA
Sam is an ABA provider for students ages 3-12 in NYC. Working in education for ten years with students with Autism Spectrum Disorders and other developmental delays, Sam has developed strategies for achieving a multitude of academic, behavior, and social goals. Sam is currently pursuing her PhD in Applied Behavior Analysis at Endicott College.