Congratulations to Linda Delano Schumacher on winning our What Does Autism Mean to You Sweepstakes! We'd also like to thank all of the parents and teachers who have contributed such heartfelt responses during this campaign. We were incredibly touched and impressed by the unique responses submitted by all of you, and are grateful to be part of a community of such strong and dedicated members.
Here was Linda's response to the campaign, which was selected from our random drawing this afternoon: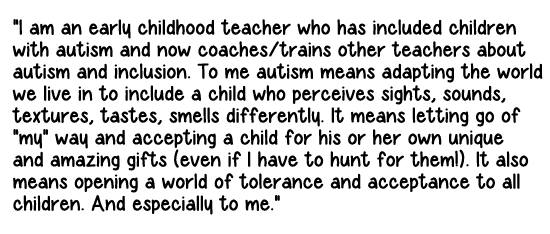 Don't forget! We're featuring an entire month of exclusive articles, interviews, and interactive giveaways for Autism Awareness! Stay up-to-date with us on Facebook, our Twitter and right here on our blog for more upcoming promotions and exclusive content.