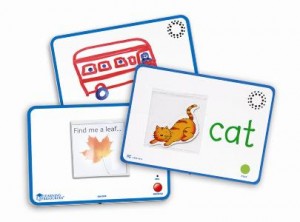 We've loved these Talk Boards and Talk Blocks since we first laid eyes on them for the myriad possibilities they offer to fully customize a lesson or activity for each student. They're designed to fit perfectly with the Basic Vocabulary, Alphabet, Kindergarten, and First Grade Vocabulary Photo Card Sets.
The Talk Boards  are double-sided with write-on/wipe-off surfaces and come in a set of 3. You can record a 10-second message for each one enabling you to get creative in endless, fun ways!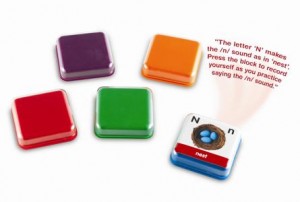 The Talk Blocks come in a set of 5, each a unique color, and you can record 30-seconds for each one to adapt activity instructions, assess or reinforce skills.
This week only, save 15% on all Talk Boards and Blocks as well as the 4 sets of Vocabulary Cards – Alphabet, Basic, Kindergarten and First Grade – by entering the Promo Code BLOGTBT2 at checkout.
*Offer expires on February 28, 2012 at 11:59 pm EST. Not compatible with any other offer. Be sure there are no spaces after the Promo Code when you enter it at checkout.