While data collection is a cornerstone of ABA, and essential for providing effective interventions, there are many obstacles to collecting accurate data. My colleague Val Demiri and I have focused a lot of time and attention to addressing these obstacles and working to make the data collection process easier.
The new ABA Tools of the Trade Kit includes some of our most-used tools, from low-tech tools such as the abacus bracelet to high-tech such as the GymBoss. The tools included here allow you to take a variety of types of data. Here's a peek at what's inside:
Tally counters: This is one of the simplest tools available, but incredibly useful. Put it on a lanyard around your neck or keep it in hands-reach to easily tally the number of instances of a target behavior.
Time Timer: I use this tool all the time with my clients. It provides a great visual for them to see time as it is elapsing. I use it for teaching children to wait for a preferred item/activity and to remain on task while the "red bar" is showing.
GymBoss: This interval timer is one of my favorite and most-used tools. I've used it and similar items in a variety of ways, for helping parents and teachers provide more positive reinforcement, teaching clients self-management skills, and keeping track of interval schedules of reinforcement when I'm implementing an intervention.
Audible Timer: While this is a basic tool, having something with an auditory stimulus is invaluable!
Token Tower: Speaking of auditory stimuli, this is one of my favorite token systems simply because the plastic token makes a sound when it drops into the tower. I also love that I can move the ring up and down the tower to indicate how many tokens the client must earn.
Abacus Bracelet: This is one of the best low-tech tools around. It's especially great for classroom teachers who are trying to count a target behavior while teaching. Simply move a bead from one side of the bracelet to the other, and then at the end of the lesson count how many beads were moved. I love technology, but sometimes you can't beat simplicity.
ABA Tools of the Trade: The book is also included in the kit, which provides much more information about these and other tools, as well as dozens of examples of real-life scenarios.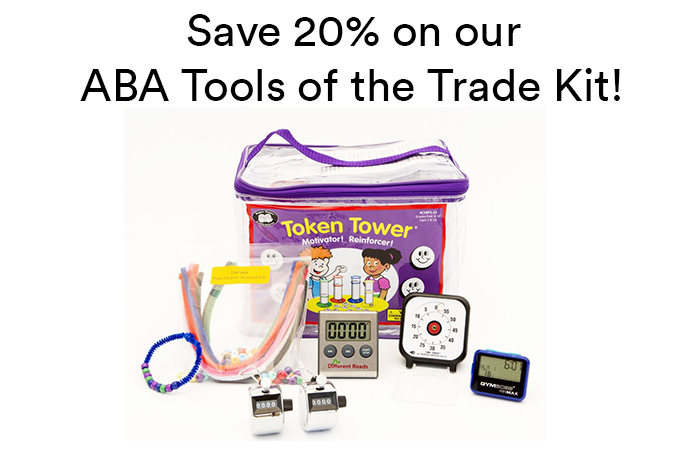 ---
WRITTEN BY SAM BLANCO, PhD, LBA, BCBA
Sam is an ABA provider for students ages 3-15 in NYC. Working in education for twelve years with students with Autism Spectrum Disorders and other developmental delays, Sam utilizes strategies for achieving a multitude of academic, behavior, and social goals. She is also an assistant professor in the ABA program at The Sage Colleges.