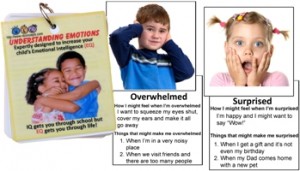 The holiday season can be filled with anticipation for children. Understanding and being able to express their emotions is important for being able to manage them. Understanding Emotions is a small, simple deck of flashcards that teach how various emotions feel and when they might occur. Emotions depicted include happy, sad, angry, frustrated, excited and more. The 30 cards come on a handy ring and can be removed to provide multiple learning options.
Save 15% this week only on the Understanding Emotions Flashcards by entering the Promo Code BLOGUE11 at checkout.
*Offer expires on December 20, 2011 at 11:59 pm EST. Not compatible with any other offer. Be sure there are no spaces after the Promo Code when you enter it at checkout.