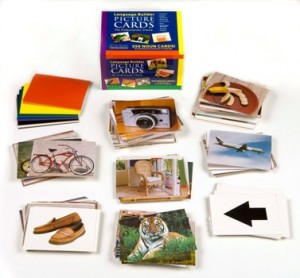 What more can we say? The Language Builder Picture Cards are the premier set of flashcards for any home or school program aimed at developing language skills. There are 350 beautifully photographed noun cards that take you through teaching and generalizing Animals, Foods, Vehicles, Furniture, Clothing, Toys, Everyday Objects, Shapes and Colors. The Language Builder is the first thing any parent or teacher needs to set up an ABA program and start teaching expressive and receptive language skills.
This week only, save 15% on the Language Builder Picture Cards by entering the Promo Code BLOGLB22 at checkout.
*Offer expires on December 27, 2011 at 11:59 pm EST. Not compatible with any other offer. Be sure there are no spaces after the Promo Code when you enter it at checkout.