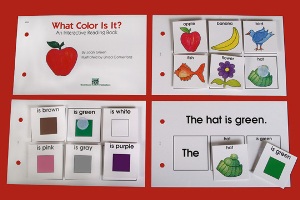 This week, we're thrilled to share a guest post by our friend and colleague, Joan Green. Joan has taught special education in California for 20 years and was even selected as the Special Education Teacher of the Year in 1997. As a member of an Autism Task Force, she co-authored a certification of competency for teaching children with autism. Based on her years of experience in the classroom, she developed a series of Interactive Reading Books designed to build language and literacy in your learners. These books have been incredibly popular over the years and we thought you all might enjoy learning a bit more about how and why they were created and how she implemented them with her students. Joan's Interactive Reading Books are all available as this week's Pick of the Week at a 15% discount. Just enter the promo code BLOGIRB7 at checkout.
I taught special education in Los Angeles schools for 20 years. In the beginning I had children with a variety of disabilities including Down syndrome, Williams Syndrome, Kabuki Syndrome and other developmental delays. During this time the students with autism were in specific autism programs and not in my class. After a few years I began teaching Early Childhood Special Education and began getting children with autism in my program.  These children are often diagnosed between 2 and 3 years of age and begin early intervention services. Once the child turns three and they begin public school it is important that teachers know the strategies that are helpful to children with autism. I began going to seminars on Teacch, Floortime, PECS, PRT, and ABA and read many books written by respected individuals who had worked with children with autism. I learned that visual strategies were very important and helpful for these children and incorporated the strategies I had learned and provided visual information throughout my classroom.
All of my students were either non-verbal or language delayed and I began using PECS (Picture Exchange Communication System) with all of my students. Picture Exchange Communication does not require that children speak; giving a picture card to someone is their communication. If, however, a child did have some speech, I wanted to hear it. If they could use one word utterances, I wanted two, if they used two words, I wanted three. I began putting sentence strips around my room that the children would bring to me to request objects or activities. All the interesting new materials were put within sight, but out of reach. On top of the cabinet could be a new truck and the sentence strip attached to the cabinet reading, "I want truck please." Children would bring me the strip and if they had expressive language we would "read" the strip together and they would get the truck to play with. When they were done the truck would go back to the top of the cabinet. I used a Visual Schedule to help the children understand their day, what was going to be happening and if there were any changes in expected activities.
I found that when given the visual cue of a picture, the children were beginning to speak and label more than they had before. When the children began increasing their vocabulary by using pictures and sentence strips I thought to myself, "If they can read a sentence, then they can read a book. What is a book but a bunch of sentences?" and this is how the idea of Interactive Reading Books came into being.
 Children with autism are often taught using a method called Applied Behavior Analysis. There is a sequence of activities that are used to help the children acquire language where they match, identify and then label pictures. I utilized this strategy and developed a book called What Color Is It? where the children matched pictures of objects and colors, then identified and labeled them and finally they were to be sequenced into sentence order and read in sentence form. The children would practice reading the sentences with the pictures and finally read the sentences without any picture cues. Since some children with autism are good at memorization, I made put the books on rings so the sentence order could be changed to help determine if the child was reading or had memorized  the sentence order.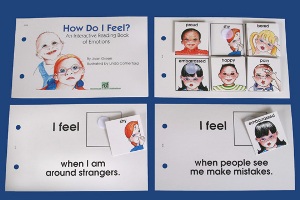 Using the students' IEP goals, I began creating books that taught the skills they needed. Reading color words and number words are kindergarten goals so What Color Is It? and How Many? were two of our first books. We followed up with Things I Do At Home and I Go to School which included the vocabulary and visual schedule of activities that are performed in their home and school environments. All of the children in my class and many children in special education have speech goals on their IEP and therefore all our Interactive Reading Books were created to be helpful in reaching speech and language goals. We now have 18 titles and many cover more advanced language skills, such as idioms, functions, social behavior and more.
The full list of titles appears below. Remember, this week only, save 15% on all of Joan Green's Interactive Reading Books by entering the Promo Code BLOGIRB7 at checkout.
 Action!
How Do I Feel?
How Many?
Things I Do at Home
I Go To School
What Color Is It?
Sounds Good to Me! An Interactive Reading Book with Phonucs and the Alphabet
The Ups and Downs of Opposites
What Do I Do? Appropriate School Behaviors
What Do I Say? Appropriate Social Responses
What's It For? Function and Categorizing
Meet the Word Family
Show Me A Sign: An Interactive Reading Book About Safety Signs
What Do They Really Mean? An Interactive Reading Book About Idioms
*Offer expires on September 26, 2012 at 11:59 pm EST. Not compatible with any other offer. Be sure there are no spaces after the Promo Code when you enter it at checkout.