People communicate using not only words, but also tone of voice and body language. Many children, however, fail to notice these relatively subtle social cues in self-expression and personal space. This week, we're featuring two of our newest social skills games, Too Much, Too Little, Just Right and Too Close, Too Far, Just Right to help you teach your learners what is "just right" in social situations. Use our promo code JUSTRIGHT to save 15%* on your sets!
Too Much, Too Little, Just Right teaches children to pay attention to tone of voice, observe body language, and note how these cues affect the message. Children assume two roles during game play: Messenger and Listener. They learn by observing others and by getting immediate feedback about their own expressive abilities. They learn to adjust volume, expression, gestures, and other physical cues in order to communicate effectively and achieve greater self-control, thus developing more appropriate and satisfying social relationships.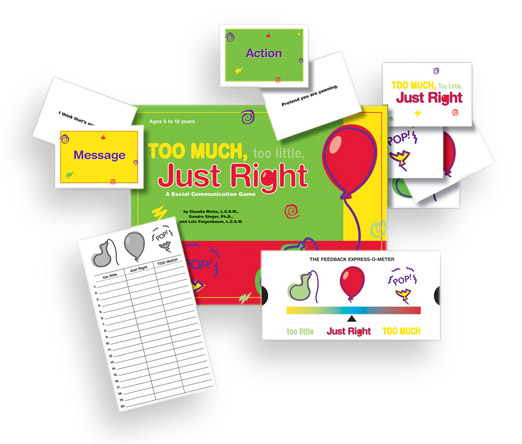 Ideal for 2 to 8 players, this game can be easily used with larger groups or classrooms as well. Because it focuses on social interaction rather than on a game board, the game can be played virtually anywhere. Clearly focused and easy-to-use, Too Much, Too Little, Just Right is an outstanding tool for those working with children who have autism spectrum disorders. The game includes: 45 Too Much/Too Little/Just Right Cards, 90 Message Cards, 64 Action Cards, 50 Response Cards, 100 Reward Chips, and 1 Feedback Express-O-Meter. Recommended for children ages 5-12 years.
Too Close, Too Far, Just Right teaches what's "too close," "too far," or "just right" in social situations. Children take turns performing social scenarios described on the Role Play Cards, and then the instructor or group of students decides whether their proximity to each other is appropriate for the particular situation. The objective is to understand the concept the personal space. Focused and engaging, this game is a gentle way to help students with autism and ADHD grasp the idea of appropriate proximity and physical boundaries and thereby improve their relationships. The game includes 65 Role Play Cards, 24 color-coded Feedback Cards, 3 "Where do I stand?" Cards, 1 Footprint Mat, and 1 booklet with instructions, game preparations and play, and variations on game play with a large group or class. Recommended for children ages 5 and up.
Don't forget to save 15%* on your order of Too Much, Too Little, Just Right or Too Close, Too Far, Just Right this week by using promo code JUSTRIGHT when you check out online or over the phone with us!
*Offer is valid until 11:59pm EDT on November 4th, 2014. Not compatible with any other offers. Be sure there are no spaces or dashes in your code at check out!